Posted 5/21/2022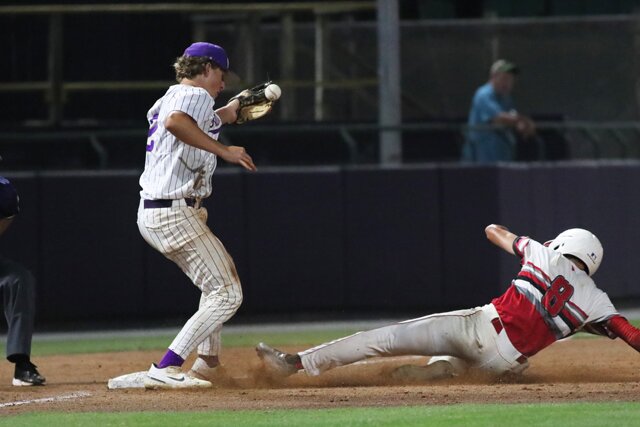 Headed for Game 3
View Photo Slideshow Here
It may only be fitting that two of the most storied Georgia High School Association baseball teams need a decisive Game 3 to settle their Class 5A state championship series.
Loganville and Cartersville, who share a combined 11 state championships, will need a final game Monday evening in the best-of-three Georgia High School Association Class 5A state championship series.
Loganville held on for a 5-4 victory in Game 1 Saturday night at AdventHealth Stadium in Rome, then Cartersville pitcher Caden Carroll tossed a five-hit shutout in a 1-0 victory in the nightcap, setting up a winner-take-all final Monday night. The game is tenatively scheduled for 7 p.m.
After Cartersville (31-7) rallied in the top of the sixth with four runs to tie in Game 1, Loganville (31-8) surged ahead on Jaylen Jones' RBI groundout to score Christian Donaldson who had doubled earlier in the inning. Matthew Heard then shut down the Hurricanes in the top of the seventh to earn the win in relief of starter Dawson Coe.
Heard, Christian Donaldson and Jones led the Red Devils at the plate with two hits each, while Cartersville's Caleb Daniel went 2-for-4. Drew Rothschild's two-run double in the sixth helped highlight the Hurricanes' four-run inning.
But in the nightcap, Cartersville's hopes rested on Carroll, who was dominant. He finished with nine strikeouts and needed less than 90 pitches to top Loganville.
An error in the bottom of the first inning of Game 2 helped Cartersville's Elliott Eastin score its only run. With Carroll in control, that was all Cartersville needed. Eastin and Caleb Daniel led the Hurricanes with two hits apiece.