Posted 5/24/2022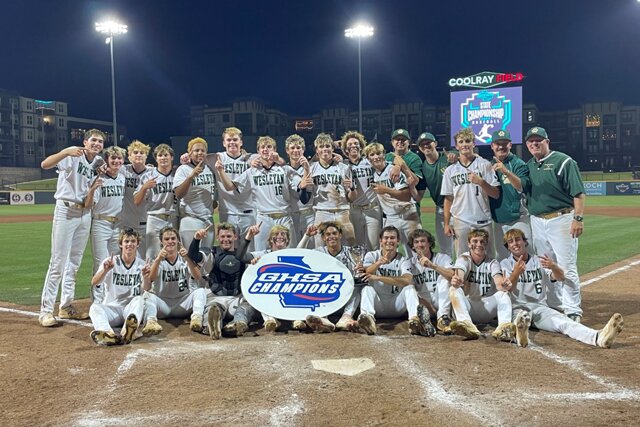 Wesleyan swept North Cobb Christian to win the Class 1A Private state title (Photo credit: GHSA)
Wesleyan rolls to state championship
Wesleyan made it look easy en route to a sweep of North Cobb Christian in the best-of-three Georgia High School Association Class 1A Private state championship series Tuesday night.
After the Wolves took a 3-0 victory in Game 1, Wesleyan broke out the offense to pound the Eagles 18-3 in the nightcap, sweeping the series and capturing the Class 1A Private state championship at Coolray Field in Lawrenceville.
It was Wesleyan's fifth state baseball title in school history but first since 2016.
In Game 1, starting pitcher Carson Ballard and Cooper Blauser combined on a three-hit shutout to set the tone in the series. Ballard allowed just three hits and struck out four in six innings, while Blauser worked a scoreless seventh to preserve the victory.
The Wolves' offense provided Ballard all the run support he needed in the second inning of Game 1 on Bryce Hubbard's two-run double and Blauser's RBI triple.
Blauser and Reed Purcell led Wesleyan's offense with two hits apiece.
In Game 2, Wesleyan used a five-run first inning to grab an early advantage and never looked back. Forrest Lietz led the offense by going 2-for-3 with a double, triple and five RBIs. Meanwhile, Schley Gordy and Reed Purcell finished with two hits apiece.