Posted 5/25/2022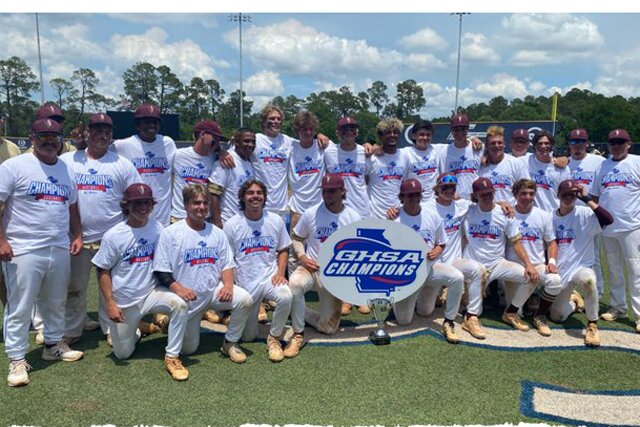 Vidalia players celebrate after winning the Class 2A state baseball title. (Photo credit: GHSA)
Vidalia rolls to championship
Kevin Cox struck out the game's final hitter.
Then the party began - in the middle of the infield - to be exact.
Cox hurled a one-hit shutout in Game 3 of the best-of-three Class 2A state championship series Wednesday afternoon while his offense did the rest, propeling the Indians to a 7-0 victory.
The victory helped Vidalia win the series and capture their first state baseball championship since 2003 and third in school history.
The Indians (30-11) started strong, scoring three runs in the top of the first and they never looked back. They scored four insurance runs in the top of the fifth to take a commanding seven-run advantage.
Ty Dalley's RBI double, Caden Spivey's RBI single and Jordan Walden's RBI groundout in the first inning provided Cox all the run support he needed.
Then RBI singles from Walker Moncus and Cox highlighted the four-run fifth inning.
Jace Lowe had Thomasville's only hit. The Bulldogs (30-7) were playing in the state championship series for the first time since 1999.
Whited and Dalley led Vidalia's eight-hit offensive attack.