By Tim Morse
Georgia Dugout Preview
Monday was the first day Georgia High School Association member schools could start baseball practice.
And it was Mother Nature who made the biggest statement without the benefit of throwing a pitch or knocking the ball out of the park.
After record warmth across the state last month, GHSA baseball schools opened practice on perhaps the coldest day of the year with biting winds.
In south Georgia, Class AAAAAA Colquitt County started practice Monday afternoon with temperatures in the mid-40s. But that was nothing compared to north Georgia. With schools closed in observance of Martin Luther King Jr. Day, Ringgold High School began practice with the temperatures in the low 20s.
Ringgold is in northwest Georgia, just south of the Georgia-Tennessee line.
But despite the cold weather, Ringgold coach Brent Tucker said his team was glad to be back on the field.
"We had fun out there today," said Tucker, who divided Monday's practice into two sessions. "It was great as long as we were moving around."
In central Georgia, Schley County pitcher Blake Howell said Monday couldn't come fast enough after the Wildcats captured the Class A public school state championship last year, its first baseball title in school history.
"It started out a little cold, but it was lovely just to be back out on the field," Howell said. "We had some of the same atmosphere as last year. Everybody was going hard at it, and I think we're going to have another good year."
While Monday was the first day teams could hold practices and tryouts, schools can't play a game until Feb. 18.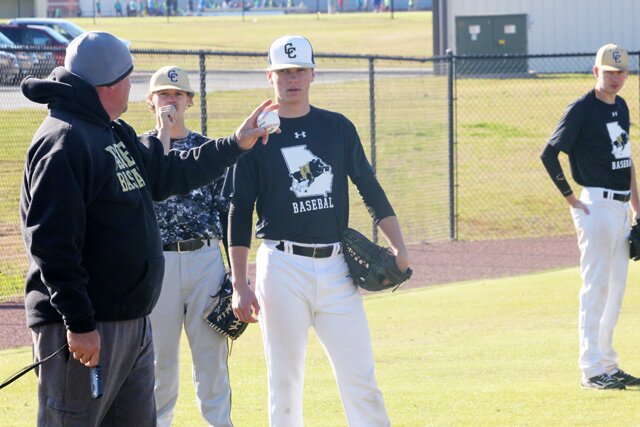 Photo cutline: Colquitt County coach Tony Kirkland, left,
talks with Kodi Bishop during practice Monday afternoon
at Packer Park in Moultrie.