Posted 2/15/16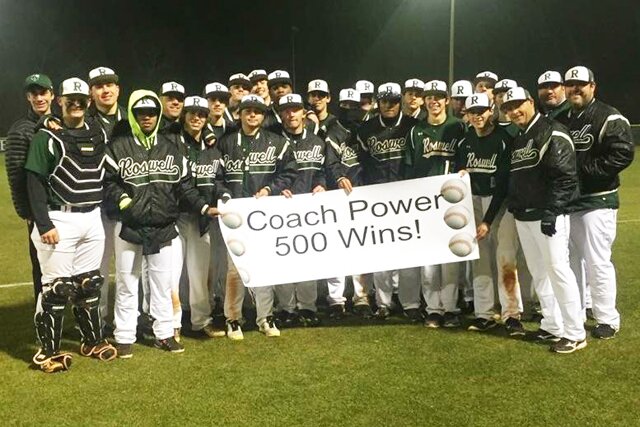 Roswell players and coaches celebrate head coach Mike Power's 500th career coaching victory Monday night
in a 7-1 victory over Centennial. (Special Photo)
By Tim Morse
Georgia Dugout Preview
ROSWELL — A handful of Roswell players secretly asked assistant coach Ben Sutter if they could dump Mike Power with the Powerade cooler after the game.
After all, Roswell High School's 7-1 victory over Centennial in the season opener Monday night at Roswell was Power's 500th career coaching victory.
With temperatures dipping into the lower 30's and a biting wind chill that was followed by hard rain, Sutter had to make sure Power wasn't doused.
"If would have probably given him hypothermia," Sutter said jokingly. "I told them we don't want to kill him on the night he recorded his 500th win."
Power can send Sutter a thank-you card later.
"It was too cold for that," Power said. "But I wouldn't have cared if they had. I have a great group of kids."
Photos were taken, high-fives were exchanged and Power received plenty of congratulatory handshakes.
To make it more special, Power's son Ryan was on the field and his wife Cathy was in attendance.
He becomes the 23rd coach in Georgia to join the 500-win club. He is eighth on the winningest active coaching list with a 500-214 record.
"I feel blessed in so many ways," Power said. "I've had so many great players who have played for me and so many great assistants who have coached with me. It's a humble feeling."
His head coaching career, which includes stops at Harrison, Daphne (Ala.), Northview and Roswell, includes three state titles and two state runner-up finishes.
He led Harrison to the Class AAAA title, then the state's largest classification, in 1998 before stepping aside and heading to south Alabama to coach Daphne High where he guided them to a pair of state titles before returning to Georgia.
He has also coached Team USA three times in 2003, '07 and '08.
Power said he received a text from former Harrison and national player of the year Corey Patterson, a first-round pick by the Chicago Cubs in the 1998 Major League Baseball Amateur Draft.
"That was touching," Power said. "And Ben Sutter, Associate Head Coach who pitched for me at Harrison, I told him he's been a part of at least 350 wins in some way or another. It's really humbling."
Sutter has had the opportunity to watch Power coach for many seasons. He saw the legendary coach win his first game as a young fan growing up when Power coached Sutter's older brother at Harrison, then he played for Power before coming back to coach after a standout collegiate career at Columbus State.
"To win 500 games, there's only been 20-something coaches do that in Georgia," Sutter said. "That speaks for the type of person he is. His character and work-ethic separate him from everybody else. I'm blessed to be able to see him from the outside as a fan, then as a player and now a coach."