Posted 2/22/16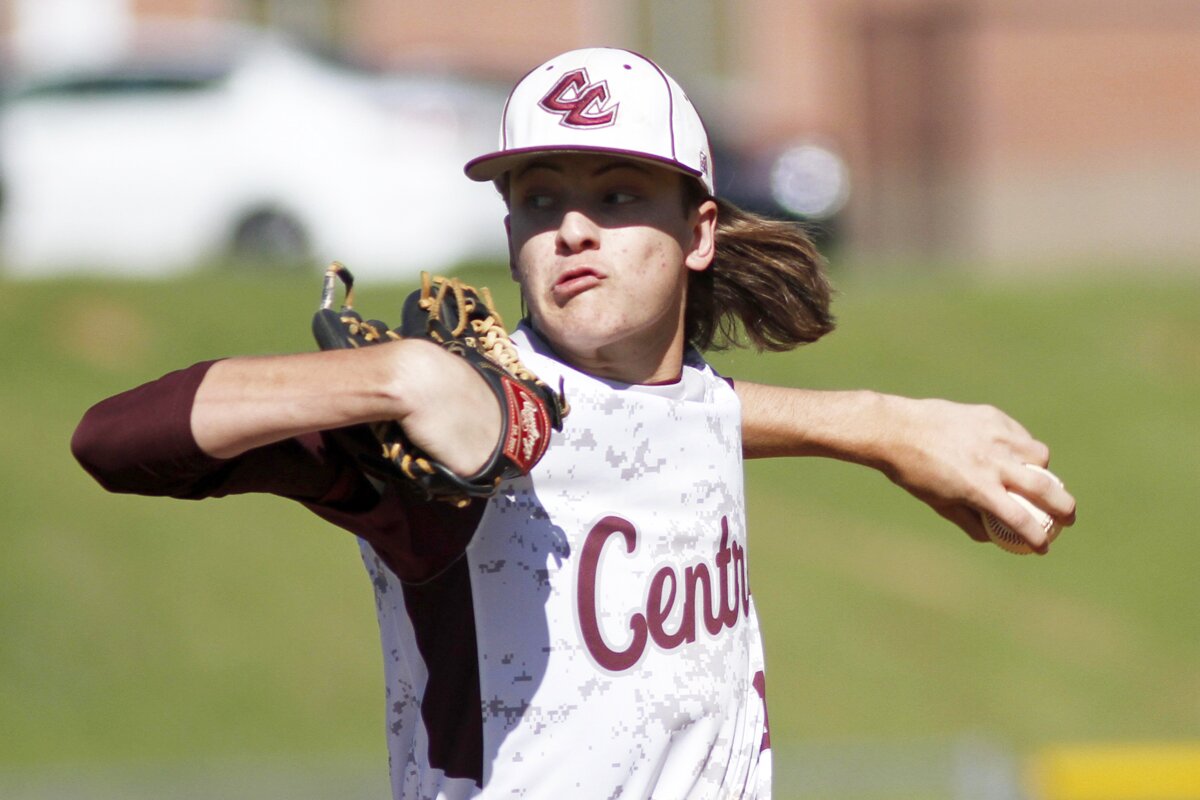 Central-Carrollton pitcher Nic Dye struck out 19 in the Lions' 4-0 victory over Jackson. (Special Photo)
By Georgia Dugout Preview
The Augusta Chronicle's Chris Gay reported that Greenbrier High School will name its baseball field after legendary coach Terry Holder on March 5.
Holder was a fixture in Columbia County, first at Evans where he guided the Knights to five state titles in the late 1980's and early 90's, including three straight from 1988-90, which also includes a state record 61-game winning streak.
Holder left Evans to start Greenbrier in 1997 where he guided the Wolfpack to three state titles in the shool's first seasons before retiring in 1999.
He later came back to coach Thomson in 2006 and led the Bulldogs to a region title in 2009.
"This was an obvious choice," Columbia County board member Mike Sleeper told The Augusta Chronicle. "The man has state titles. The man has region titles. He truly is a legend."
Holder is eighth on the state's career coaching list with a 588-153 record. He is one of 24 coaches in the state with 500 or more wins.
Class 6A
Walton flexed its muscles in its season opener against Kell on Friday. Pitcher Zac Kristofak picked up where he left off last season. The preseason first-team all-state pitcher allowed just one hit in four innings as the Raiders won 11-1. Kristofak struck out six and threw just 63 pitches before yielding to Aaron Toporek, who worked a scoreless fifth.
Jason Rooks, Carter Kieboom, Jason Avers and Ben Spencer each had two hits, while Rooks belted a grand slam and Kieboom also homered.
Milton jumped into the rankings at No. 10 after beating Dunwoody 9-1, then scored an impressive victory over Class 5A power Houston County. The Eagles beat Perfect Game All-America pitcher Tony Locey in an 8-6 victory on Saturday.
In South Georgia, Lee County went 3-0 during the week, beating a pair of Columbus schools in Shaw and Hardaway as well as Class 4A Veterans. Against Hardaway, Landon Cooper's triple in the bottom of the seventh scored a pair of runs in a 4-3 victory.
Meanwhile, Tift County opened its season with a 4-1 record, beating Pierce County, Coffee and Episcopal School of Jacksonville. The Blue Devils' only loss came against Florida power Bolles, a 3-0 setback.
Class 5A
One of the best nonregion games to open the season in any classification came Saturday when defending Class 3A state champion Blessed Trinity outdueled Allatoona 3-2 in 10 innings.
Blessed Trinity managed just three runs on five hits, while Allatoona had just two runs on four hits. Garrett Dupuis' RBI double in the 10th inning was the winning run for the Titans.
Loganville opened its season Wednesday with a 7-4 victory over Class 6A North Gwinnett last Wednesday. Loganville pitchers Mitchell Miller, Timothy Elliott, Ryan English and Morgan Copeland combined to allow North Gwinnett just one hit.
Cambridge pitcher Jon Mullis gained statewide attention last Wednesday when he tossed the school's first no-hitter in a 12-0 rout of Centennial. Mullis stuck out six and walked three innings in five innings. He threw just 71 pitches, 35 of them strikes.
First-year school Discovery earned its first victory last week in a 1-0 victory over Meadowcreek. Jake Oesterle tossed the no-hitter for the Titans, while Savion Thompson scored the only run in the bottom of the seventh inning. He reached base on a walk, was balked to second and on his attempt to steal third, the throw sailed into left field, allowing him to score.
The victory spoiled a brilliant performance from Meadowcreek's Nathan Bernard, who had a no-hitter going before he was replaced in the final inning.
Class 4A
Defending state champion Buford opened its 2016 campaign with an 18-4 shellacking of South Gwinnett on Friday.
Winning pitcher Zach Fordham was aided by Georgia signee Justin Glover who had three hits, drove in five runs and hit a home run to lead the offense. Nick Wilhite had three hits and four RBIs, while Austin Wilhite had two hits and two RBIs.
Cartersville opens its season Wednesday against Class 6A power Lambert.
Class 3A
What an opener it was for Central-Carrollton's Nic Dye in a 4-0 victory over Jackson last Monday. The senior left-hander struck out 19 and allowed just one hit to earn the complete-game victory. Dye threw just 93 pitches.
It also didn't hurt that Zack Gaines and Garrett Lovvorn collected two hits apiece to pace the offense.
Westside-Augusta, the preseason No. 3, continued its usual tradition of playing higher-ranked teams to open its season. The Patriots opened with a pair of losses to Columbia County foes Grovetown and Lakeside-Evans.
Pierce County, after returning just three starters, is off to a 3-1 start. Even in the Bears' loss to Class 6A Tift County, they still played well.
Franklin County won a pair of rivalry games to open the season, beating Stephens County and Hart County.
Class 2A
Top-ranked Wesleyan didn't wait for the postseason to post a pair of dramatic victories on Friday. After trailing 9-1 against Jeff Davis, Wesleyan rallied for a 10-9 victory, then Mikey Olson scored the winning run when a passed ball on a strikeout helped teh Wolves beat Wayne County 4-3.
Darlington is off to a 2-1 start under first-year coach Matt Larry. The former Shorter College coach helped the Tigers beat Sonoraville and Cedartown. Their only loss was to Rockmart.
A team to keep an eye on this season is fifth-ranked Bacon County. The Raiders are 2-0 after beating Class A public school power Treutlen on a strong pitching performance from preseason all-state Dalton Spires, who allowed just one hit and struck out eight in five innings of work in an 8-6 victory.
Bacon County competes in Region 2-AA, which will be a fight just to earn a postseason berth. Defending region champion Benedictine is off to a 2-1 start after defeating Mount Paran Christian and New Hampstead. The Cadets lost 6-5 to Class 6A school Lassiter.
Another team to keep an eye on is Jeff Davis, who is 2-1 with its only loss against top-ranked Wesleyan.
Class A public
Schley County picked up from where they left off last season, defeating Class 4A Perry 12-7 in its season opener. The Wildcats used four pitchers with Chase Patrick earning the victory in relief. The Wildcats also used two hits each from Josh Hutchens and Patrick as part of their five-hit attack.
Two teams to keep an eye on are Baconton Charter in South Georgia and Trion in northwest Georgia. Both are off to 3-0 starts and beat some solid teams. Baconton beat a a pair of Class 2A teams in Brooks County and Seminole County as well as Godby (Fla.), while Trion beat Lafayette and Southeast Whitfield, a pair of Class 4A schools as well as Dade County.
Mount Zion-Carrollton coach Randall Wright earned his first career victory on Wednesday in a 5-2 win over Our Lady of Mercy.
Class A private
Eagles Landing Christian brought in Stewart Bailey to replace Doug Campbell. Bailey has the Chargers off to a 2-0 start, including impressive victories over East Coweta and George Walton.
Savannah Christian coach Carl Carter entered the season needing three victories to reach 500 coaching wins. He beat Jenkins for No. 498 last week.