Posted 3/20/16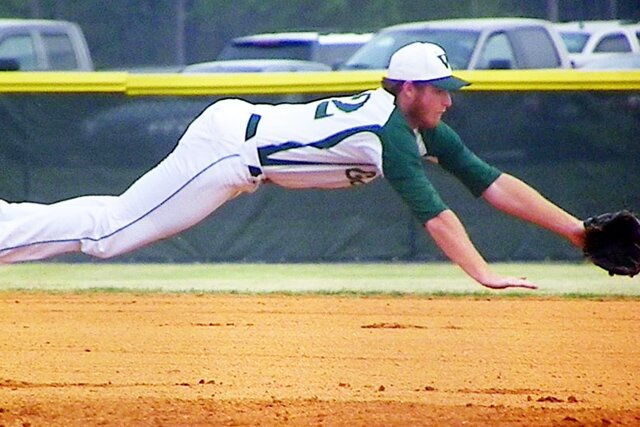 Ware County senior Zach Strickland said playing golf helped him at the plate last week against Glynn Academy. (Photo by Angelia Strickland)
By Tim Morse
Georgia Dugout Preview
The majority of teams in the Georgia High School Association have started region play by now and every region has a different format. The grind of region play can be overwelming at times.
Ware County senior pitcher/infielder Zach Strickland has figured out a way to relax during the middle of the Gators' region schedule. Ware County competes in Region 3-AAAAA and the Gators have at least three region games each week.
"I love to play golf," Strickland said. "It's actually helped me with baseball too. (Ware County coach Tony Yeomans) don't like us to play it much, but after it helped me, he told me to play all the golf I wanted."
Strickland and his teammates Austin Lairsey and Kobe Manders played last week. Did golf help the Georgia Southern signee?
In a 9-4 loss to Glynn Academy on Wednesday, he went 1 for 3 with a two-run homer. Then in a 7-4 victory over Glynn Friday night, Strickland went 2 for 2 with a three-run homer and five RBIs. Ironically, it was Lairsey who singled to reach base before Strickland's homer.
The National High School Invitational begins this week in Cary, N.C. and two Georgia teams -- Walton and Allatoona -- drew invites. Walton opens on Wednesday (3/23) against Bingham Utah at 4 p.m. Meanwhile, Allatoona will play Houston (Tenn.) at 3:30 p.m. also on Wednesday.
Class AAAAAA
Rick Howard is no stranger to building powerhouse baseball programs. After helping Brookwood become an annual contender in the rugged Region 8-AAAAAA, Howard took over at Lambert this season and has the Longhorns at 8-4 overall, 5-1 in Region 6-AAAAAA play. A strong pitching staff is led by Zach Gravino. In four starts, the senior is 4-0. In 21 innings, he has struck out 32, walked three, allowed nine hits and no runs. He had 11 strikeouts against Alpharetta. Offensively, the Longhorns are led by junior shortstop Josh McAllister (.512 avg., 8 2B, 3 3B, 10 RBIs) who has a 12-game hitting streak. Senior center fielder Michael Raiano is hitting .500 with a .630 on-base percentge. Preseason all-state catcher Kyle McCann is batting .419 with two homers and 12 RBIs.
But the hottest team in Region 6 is Johns Creek, who has won nine straight and is 9-3 after a rough start. The Gladiators may be one of the more-diverse teams in the state this year as the program boasts a handful of players from Japan. Three are on the ninth-grade team -- Yuma Tanaka, Nicholas Konishi and Kazuki Onishi -- while Shugo Tanaka is on the varsity team.
In Region 1-AAAAAA, the classification's last unbeaten team was Lee County, which lost its first game 4-3 in eight innings last Monday at Hardaway. But the Trojans quickly put the game behind and defeated defending region champion Tift County 2-1 in nine innings last Tuesday. Landon Cooper scored from second base on an error to tie the game at 1, then Kolby Phillips' RBI single scored Josh Hatcher for the winning run in the bottom of the ninth as Lee improved to 13-1 and 4-0 in region play.
Colquitt County and Tift County are in a tie for second, two games behind Lee after the Packers lost 4-1 at Valdosta Friday night. Colquitt, who beat Tift County 1-0 earlier this season, plays host to Tift Friday night at Packer Park.
In Region 2-AAAAAA, first-year coach Donald Hayes has Lakeside-Dekalb off to 9-1 start. The Vikings took three victories over region foe Newton last week and sit atop the region standings with Tucker, who is 3-0 in region play.
As usual, the Region 3-AAAAAA race will likely decided between Newnan and East Coweta, who split a pair of games last week. East Coweta's Thomas Leone and Coleman Wood combined to pitch the Indians to a 13-6 victory on Tuesday. Dillon Roller went 4 for 5 with five RBIs, while Austen Russell went 3 for 5 to lead the offense. But Newnan got even on Friday, defeating East Coweta 15-11 in eight innings. Dahlton Cash went 3 for 5 with a trio of RBIs, while Anthony Marino finished 3 for 4.
Some interesting games highlighted the first week of region play in Region 4-AAAAAA. Hillgrove and Harrison earned splits as well as McEachern and North Paulding, who split a pair of one-run games. On Wednesday, McEachern ace Alex Speas hurled a one-hit, complete-game shutout to outduel North Paulding ace Christian Ryder. Jeremy Harmon's sacrifice fly in the bottom of the sixth sent Ryder home with a hard-luck loss. But the Wolfpack rebounded on Friday, getting a pitching gem from senior Jordan Krueger, who allowed just a run on four hits in a 2-1 victory. Ryan Roon and Austin Weir each went 2 for 3 to lead the offense. Keep an eye on North Cobb, who is 12-1 this season with its only loss coming to No. 5 Pope.
While much of the preseason talk centered on Walton and Pope in Region 5-AAAAAA, Woodstock has established itself as a legitimate contender after getting off to a 10-5 start, including a 4-2 mark in region play. The Wolverines defeated Milton 4-0 behind pitcher Trevor Hillhouse on Monday. Hillhouse fanned 12, then the Wolverines defeated Wheeler 16-0 on Wednesday to notch coach Todd Harris his 100th coaching victory.
Region play starts this week in Region 7-AAAAAA and keep an eye on a trio of schools that are off to quick starts -- Norcross, Collins Hill and Mountain View. Collins Hill had a big week last week, beating Etowah, Class 5A top-ranked Loganville and Class 4A power Cartersville.
But one of the more impressive performances of the season came from Mill Creek pitcher Christian Rutherford, who tossed a perfect game Friday in a 7-0 victory over Cartersville. Rutherford threw just 62 pitches, 45 of them strikes.
Brookwood handed Archer its first region loss in Region 8-AAAAAA Friday night with a 8-2 victory. Angelo DiSpigna finished 5 for 5 with four RBIs to lead the Broncos.
Class AAAAA
Northside-Columbus, Columbus High and Hardaway each have one loss in the Region 1-AAAAA standings. That will change this week when Columbus plays at Northside on Tuesday. The Blue Devils have won three in a row, while Northside has won four straight. But keep an eye on Hardaway, who handed Class 6A Lee County its first loss of the season last Monday, a 4-3 victory. Sam Anthony went 2 for 4, while pitcher Chandler Griggs got a no-decision after allowing two runs on four hits in seven innings. Tristan Driver earned the victory in relief.
Region 2-AAAAA was more topsy-turvy than a roller coaster last week. After the week ended, Houston County showed why they will be tough to beat. The fourth-ranked Bears beat Warner Robins 11-0, then they defeated cross-county rival Veterans 10-6 before handing Jones County its first loss. Tanner Hall went 2 for 3 to beat Veterans, then Hall went 6 2/3 innings on the mound to help the Bears down Jones County on Thursday.
Grovetown has made some noise in Region 2-AAAAA. Junior Hayden Harris tossed a complete game on Friday, allowing just a run on five hits to help the Warriors defeat defending state champion Greenbrier 4-1. Trey Gomillion, Noah McBride and Brannen Guy each had two hits for Grovetown in the victory.
Glynn Academy senior pitcher Chad Wallen is 5-0 with complete-game victories over Woodstock, Bacon County, Brunswick and Ware County this season. In a 2-0 victory over Ware last Monday, he tossed a one-hit shutout, throwing just 68 pitches.
Starr's Mill has won 10 straight, while Union Grove has won six in a row in Region 4-AAAAA. The two teams along with Northgate are the last three unbeaten teams in the region.
Allatoona has won nine straight after starting the season 1-1. In victories over New Manchester, Hiram and Chapel Hill last week, the Buccaneers outscored their opponents 47-5.
It's no surprise that Mays sits atop the Region 6-AAAAA standings, but the team the Raiders are tied with is somewhat of a surprise. Southwest DeKalb is 10-2 overall, 5-0 in region play. The Panthers have been led by shortstop/pitcher Tyler Sylvester.
Dalton and Rome lead the Region 7-AAAAA 'A' subregion. Meanwhile in the B subregion, Kell has won 10 straight after starting the season 1-2. Their 9-0 subregion record has them atop the standings. But Forsyth Central (8-3, 5-1) and Cambridge (8-3, 6-3) lurk closely behind.
The biggest game in Region 8-AAAAA this season will be Monday pitting top-ranked Loganville at No. 2 Gainesville. The 5:55 p.m. game will be played at Ivey-Watson Field and will have a significant impact on the region standings. The two teams boasts All-American pitchers in Mitchell Miller (Loganville) and Gainesville's Jonathan Gettys.
Class AAAA
One of the best game's of the week was in Region 1-AAAA between rivals Thomas County Central and Cairo. Doug Smith's RBI groundout in the first inning scored Eli Taylor and Thomas County Central beat Cairo 1-0. TCC's Jonathan Robinson outdueled Cairo starter Emerson Hancock. Robinson threw a five-hit shutout and struck out six to earn the complete-game victory. Hancock, meanwhile, allowed just one hit and struck out 10 to take a hard-luck loss. Drew Leverett went 3 for 3 in a losing cause.
It wasn't the best week for Cairo, who lost 7-0 to Cook on Monday in a key region game. Jalen Wilcox tossed a complete-game three-hit shutout for Cook who used a 3 for 3 performance from Zane Folsom. After Cook's big victory over Cairo, the Hornets fell 7-3 to Crisp County Wednesday night as Crisp's Dagan Kennedy allowed Cook just three runs on five hits, while Will Lanneau went 3 for 4 to pace the Cougars.
West Laurens and Upson-Lee lead the Region 2-AAAA standings after both have posted 3-0 records. West Laurens cut down Baldwin this week in region play, while Upson-Lee defeated Howard.
Wayne County has won six straight, including a pair of region victories over Windsor Forest. The Yellow Jackets and Thomson are 2-0 in region play. Wayne has been led by Mason Robertson, who went 3 for 4 with a pair of RBIs in a 9-6 victory over Richmond Hill. Zach Mainor and Brooks Parker have been two of the team's top pitchers.
Locust Grove has drawn most of the headlines in Region 4-AAAA, but the Wildcats haven't gotten much separation in its region. Spalding is unbeaten in region play and Eastside and Pike County have just one region setback, while Griffin and Walnut Grove have two region losses.
Troup scored 29 runs in its first two victories over Woodward Academy last week, but the Tigers needed eight innings to beat Woodward on Friday when Winston Turner doubled and later scored the winning run on a wild pitch. It was the fifth straight win for the Tigers.
Two of the hottest teams in the state are in Region 6-AAAA. Marist, who moved up to No. 3, defeated Columbia, Mill Creek and Cross Keys twice last week for its fifth straight win. Redan, meanwhile, has won seven in a row after beating Chamblee twice last week.
Region play begins in Region 7-AAAA this week and that is good news for Cartersville, which continued its front-loaded schedule last week when the Hurricanes lost to Class 6A powers Collins Hill and Mill Creek. Pickens has won five straight and is 7-4, while Heritage-Catoosa is 5-4 after beating rival Ringgold 10-7 on Friday. The Generals were led by Noah Hill, Cole Wilcox and Joseph Hill. In two victories over Murray County last week, leadoff batter Travis Huffman went a combined 6 for 7 with two triples, a double and three RBIs.
Top-ranked Buford outscored Monroe Area 29-0 in a pair of region games last week, then shut out West Forsyth 10-0 on Saturday to move to 9-2 on the season. But the hottest team in Region 8-AAAA may be North Hall, who has won five straight after beating Madison County 11-1 on Monday, then White County twice.
Class AAA
Franklin County and Blessed Trinity are the last two unbeaten teams in Class AAA. Franklin, meanwhile, may be the state's biggest surprise. The Lions, in their second season under coach Ronnie Royston, have rolled through 7-AAA, sweeping three-game series from Lumpkin County two weeks ago before beating West Hall three times last week. Franklin is led by pitchers Aubrey Davis and Luke Roberts.
Blessed Trinity has won 42 straight games dating back to last season. The Titans' most impressive victory of the season came last Monday in a key Region 4-AAA game against No. 2 Westminster. Blessed Trinity scored 15 runs on 15 hits in a 15-1 victory in five innings. David Dunn and CJ Adams each went 3 for 4 at the plate. Dunn had two triples and three RBIs to provide pitcher Hayden Lehman all the run support he needed. Lehman allowed just a run on one hit and struck out seven.
One of the tightest races is in Region 1-AAA where Pierce County and Tattnall County lead the region standings with 8-1 records. Appling County has just one loss, but also has a tie with Jenkins. Brantley County, who beat Pierce County last week, and Toombs County are both closely behind with a pair of region losses.
Tattnall County may be the most surprising. The Warriors scored a 4-0 victory over preseason favorite Appling County as Peyton Knight outdueled Appling ace Mason Parker. Knight allowed just five hits to earn the complete-game shutout. Mikey Anderson and Jeremiah Barnett each went 2 for 3 to lead the offense.
Westside-Augusta has won six straight in Region 3-AAA. All of the team's losses have been to Class 5A schools. The Patriots have been led by pitchers Jonathan Jahn and Owen Price as well as offensive leaders Tim Gray and William Wingate.
Cedartown makes the biggest jump this week into the Class AAA poll at No. 5. The Bulldogs, under the direction of coach Doyle Kelley, swept Central-Carrollton in a trio of games and have won 12 straight since losing to Darlington in their second game of the season. Casey Newsome's RBI single in the seventh helped the Bulldogs defeat Central 7-6 on Tuesday, then in a 5-0 victory on Friday, Dalton Prince and Miles Minge combined on a four-hit shutout as Jack Haney went 3 for 4 with an RBI. Then Haney went 4 for 5 with four RBIs as the Bulldogs finished off Central 9-3 in the second game of the doubleheader.
In Region 6-AAA, Ringgold knocked off Calhoun 11-1 last Tuesday behind pitcher Devin Lancaster who allowed just a run on two hits in five innings. He was sparked by Tyler Nichols' 3 for 3 performance at the plate. But Adairsville and Lakeview-Fort Oglethorpe trail the Tigers by a game in the region standings.
Dawson County is also unbeaten in Region 7-AAA and before the Tigers lost a nonregion game to White County on Saturday, Dawson had won nine straight.
The winner of Region 8-AAA may come down to the last week of the season. And no team has had it worse than Oconee County. The Warriors were swept by Jackson County last week to start 0-3 in region play, then after they beat No. 3 Jefferson 4-2 on Tuesday, the Warriors lost a doubheader to the Dragons on Friday – 8-6 and 3-2.
Elbert County is currently 10-2 overall and 3-0 in region play, the only unbeaten team left in Region 8-AAA after beating East Jackson three times last week. Surprising Hart County, which returned very few starters, and Jefferson are tied for second with 5-1 records in region. Hart County took a pair of games from previous No. 5 Jackson County (6-3 and 3-2)
Class AA
Benedictine's Chipper Wiley allowed just two runs on four hits to earn a complete-game victory in a 4-2 win over Bacon County that sent the previously 10th-ranked Raiders tumbling out of the state rankings. Wiley fanned nine, while Ryan Woiwode provided the offense, going 2 for 3 with a homer and a double.
In an early season Region 6-AA battle, top-ranked Wesleyan took two of three from Lovett. The Wolves won a 3-1 decision on Tuesday behind Jordan Ward's complete-game victory. Ward allowed just one unearned run on seven hits to outduel Lovett star Aaron Schunk who allowed just four hits in four innings. But David Easterling's 3 for 4 performance on Thursday helped the Lions to a 3-1 victory before Wesleyan won 9-1 on Friday behind a complete-game victory from Alex Thompson, who also went 2 for 4 . But Holy innocents and Greater Atlanta Christian currently lead the Region 6-AA standings with 2-0 records.
Thomasville has won six straight, all region games, to even its record at 6-6. They visit Berrien Tuesday night (3/22) for a key Region 1-AA game that could go a long way in deciding the top seed. Berrien and Thomasville were picked to finish 1-2 in the preseason.
Bowdon played just one game last week and defeated Mount Zion-Carrollton 14-4. The Red Devils are the last undefeated team in Class AA. They will play three games against arch-rival Bremen this week, three games that will go a long way toward the postseason.
Metter continues to play well and is ranked for the first time this season at No. 10. The Tigers defeated Harlem 5-1 last Tuesday behind Brennan Crooms, who hurled a complete game allowing just a run on two hits while striking out six. He also went 2 for 4 at the plate with a pair of RBIs. Then Metter routed East Laurens 14-5 on Friday, getting 3 for 4 performances from Crooms and Andrew Hendrix. Ashton Brosh earned the victory on the mound.
Model stunned previous No. 2 Darlington 6-3 last Tuesday. Pitcher Trey Lonard allowed just three unearned runs on three hits, while the Blue Devil offense erupted for nine hits. But Jay Shadday struck out 10 in a 2-0 victory over Dade County Friday as the Tigers rebounded.
Lamar County continues to be a team to keep an eye on in Region 4-AA. The Trojans are 9-4 overall and 4-0 in region play. Coach Mike Oberg is in his first season at Lamar.
Class A public
Baconton Charter has won nine straight games and sits atop the Region 1-A standings. But lurking closely behind is preseason region favorite Miller County, who is also unbeaten in region play. The two teams meet Tuesday (3/22) in a neutral site game at Terrell County High School. Baconton moved to 5-0 in region play last Thursday with a 10-1 victory over Terrell County behind pitcher Taber Raley who improved his season record to 4-0 with his 10-strikeout performance. Brooks Pinson added two doubles and Brantley Morgan smashed a two-run homer.
Charlton County moved up a spot in this week's poll to No. 3. The Indians, who still have a relatively young team, opened up a two-game lead in the Region 2-A standings over Irwin County and Clinch County, who both have two region losses. Charlton established itself as the team to beat after beating Irwin County 7-1 last Tuesday behind a near no-hitter from Austin Knowles, who lost his no-hit bid in the seventh with one out on Jonathan Martin's single. Knowles' pitching gem was aided by Pete Chesser's two-run homer and Tyler Chesser's RBI single in the fifth. Jack Gowen added an RBI double, while Cole Giddens finished with an RBI single.
Keep an eye on Clinch County and Telfair County, who are very much alive in the Region 2-A race. Clinch has won three straight, including an 11-6 victory in nine innings over Wilcox County Friday night as the Panthers used a six-run explosion in the ninth to win. Cian Hill went 4 for 5 at the plate with an RBI, while Tison Bell went 2 for 4 with a trio of RBIs. Telfair County has won four in a row, beating Echols County, Wheeler County and Turner County to improve to 7-4 overall, 5-2 in Region 2-A.
Region 3-A will continue to rank as one of the state's toughest. Second-ranked Treutlen can attest. After the Vikings beat Calvary Day 2-1 on Tuesday behind Tristan Cone's complete-game victory, Treutlen fell to Johnson County 6-5 on Thursday when the Trojans scored four runs in the bottom of the seventh. The Trojans, who moved into this week's poll as No. 8, then ran out of pitching and lost 10-0 to Savannah Christian on Friday.
ECI has won three straight after starting the season 3-6. The Bulldogs defeated Savannah Country Day 11-0 and Jenkins County 7-2 last week.
Schley County coach Chuck Cheek earned his 300th coaching victory last Tuesday when the Wildcats outdueled Brookstone 5-1. Brett Usry and Blake Howell combined to allow just one run on three hits, while Josh Hutchens and Usry each went 2 for 3 at the plate. Then Howell struck out 12 batters to lead Schley past Taylor County 8-2 on Friday.
Marion County is 7-4 under first-year coach Trey Reeves. The Eagles, who have just two losses in the region, could be a surprise.
One team to keep an eye on in north Georgia is Trion. The Bulldogs are off to an 8-1 start and pulled off one of the biggest wins in Class A so far this season when they upended two-time defending Class A private school champion Kings Ridge Christian 3-2 last Tuesday. Pitcher Evan Walker hurled a complete game for the Bulldogs, allowing just two runs on four hits and striking out six. Gabe Howell hit a solo homer, while Griffin Floyd and Drew Williams added RBI singles in the victory. Trion is No. 5 in this week's poll.
Commerce and Towns County are the only public schools in the rugged Region 8-A. Commerce took a beating this week, falling to powerful Hebron Christian 11-3 before splitting a pair of games with Prince Avenue Christian. The Tigers won the game on a bases-loaded walk to beat Prince 8-7 on Thursday. Jonathan Ray earned the victory in relief, while Trey Parr and Drew Hulsey each went 2 for 3 to lead the offense. Parr finished with four RBIs.
Class A private
Mount Paran Christian has won nine straight games and is off to an 11-3 start. The Eagles' three losses came in the first two weeks of the season against Class 6A Alpharetta, Class 2A power Benedictine and to Class 5A South Paulding. But no week will be tougher on the Eagles than this up coming week. The second-ranked Eagles play host to two-time defending state champion Kings Ridge Christian on Tuesday, then travel on Wednesday to play Trion, ranked fifth in the Class A public school poll.
Mount Paran is led by outfielder Taylor Trammell, whom Baseball America ranks as one of its top prospects in this year's Major League Baseball Amateur Draft. Matt Norton and Brady Scott combined to pitch the Eagles to a 4-3 victory over Mount Pisgah Christian on Thursday, while Zach Kyzer went 3 for 4 to lead the offense.
George Walton is another team that has quietly strung together a winning streak. The 8-2 Bulldogs have lost to Eagles Landing Christian and Class 4A North Hall. George Walton scored a pair of impressive victories over Providence Christian this week -- a 15-3 win on Wednesday, followed by a 5-1 win on Thursday to move to 4-0 in Region 8-A. Brooks Barineau earned the victory, going six innings before yielding to Kale Ledford who earned the save. Ledford also went 2 for 3 at the plate.
Kings Ridge Christian's Kyle Brnovich continues to play well for the Tigers. In an 11-4 victory over Walker on Tuesday, Brnovich hit two homers and a double and finished with six RBIs.
What a week in was for Tattnall Square's Garrett Houston in a pair of victories over region foe Stratford. In a 9-4 victory on Tuesday, Houston went 1 for 3 with a double and two RBIs. Then in a 3-0 victory on Thursday, he hurled a complete-game shutout, allowing just four hits and striking out 13.
After falling 8-7 to Commerce in a Region 8-A game on Thursday, Prince Avenue Christian got even on Friday in a 6-0 victory. Trace Jeffers allowed just two hits in 6 2/3 innings, while Andrew Bray's two-run homer helped spark the offense.
Savannah Christian is 10-4 and outscored Jenkins County and Johnson County by a combined 25-0 last week. In the Raiders' victory over Johnson County last Friday, Zack Brockman went 4 for 4 with an RBI, while Ben Haeussler went 1 for 3 with four RBIs. Jacob Rhodes finished 1 for 3 with a pair of RBIs, while Justin Anderson went 2 for 4. Savannah Christian plays a pair of ranked foes this week -- No. 7 ECI on Tuesday (3/22) and No. 2 Treutlen on Thursday (3/24).