Posted 2/12/17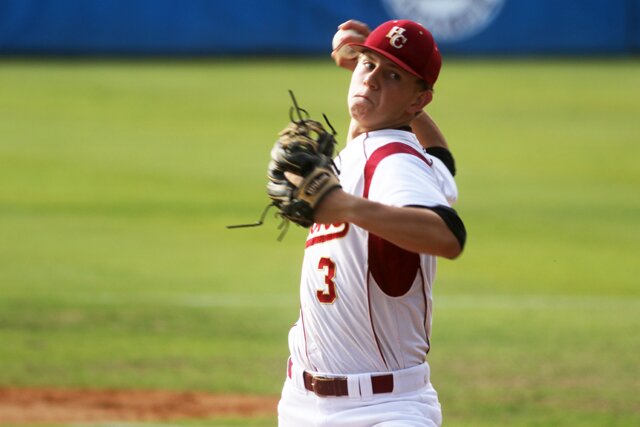 For the first time, high school baseball teams will have to follow pitch counts this season.
By Tim Morse
Georgia Dugout Preview
Monday is the opening day for baseball for Georgia high schools competing in the Georgia High School Association.
And perhaps the most radical change in recent memory will involve the mandatory pitch-count rule.
The GHSA unanimously approved the new measure at its fall executive committee meeting last August.
Rest is a key part. If a pitcher throws 86 or more pitches, the pitcher is required to rest for three days. Pitchers throwing 61 to 85 pitches will be required to have two days of rest.
Pitchers who throw 36 to 60 pitches are required to take a day of rest.
No rest would be required for pitchers throwing 35 or less pitches. However, a pitcher throwing consecutive days will have to take a day off.
The rule gets more complex in the postseason where pitchers won't be allowed to throw more than 120 pitches in a series unless weather extends the series.
A day of rest is defined as a calendar day. For example, a pitcher who reached the 110-pitch limit on a Tuesday would not be allowed to pitch again until the following Saturday.
The scenario is similar for sub-varsity games. A pitcher can throw one to 24 pitches and not have to take a day off. However, if the pitcher throws 25 to 44 pitches, he must take a day off. If he throws 45 to 64 pitches, he must take two days off. Meanwhile, if a pitcher throws 65 to 90 pitches, he must take three days off.
Under previous rules, there were no pitch counts and pitchers were limited to 10 innings per calendar day and a maximum of 14 innings in four consecutive calendar days.
But that will change this season.
"It's a great idea for the health and safety of the players' arms," Lee County coach Brandon Brock said.
While most all coaches agree the safety of players is the most importance, the rule is expected to hurt smaller schools that don't have the pitching depth.
"We will be blessed to have about five guys on the mound this year," Terrell County coach Patrick Cuff said. "But it's going to hurt a lot of smaller schools who don't have as many pitchers. I agree with the safety and I love protecting the kids, but it's going to be a disadvantage for the smaller schools."
Locust Grove coach Stephen Phillips, who guided his team to the school's first state championship in school history last year, said the new rules will be something schools will have to get used to.
"It's going to be trial by fire," Phillips said. "We're going to have to make adjustments along the way and see how it all plays out. I know in the long run it's going to be for the safety of our kids, which should be our biggest concern, but anytime a new rule is put into place, it's going to affect some more than others."
One of the bigger concerns for GHSA schools was how the pitch counts were going to be monitored. The process will be completed by an individual who is registered with a local GHSA sanctioned umpire association. The Pitch Count Monitor (PCM) will be paid a 1/2 game fee plus travel. The PCM will deliver the pitch counts to the umpire association who will enter the pitch counts for each school into the GHSA MIS system by 9 a.m. the following day.
Pitch Count Monitors will be paid $29.50 per varsity game plus $15 travel. It increases to $45 in state tournament play with no travel fees. Sub-varsity PCM's will be paid $25.50 per game. The additional costs could put a significant strain on local baseball budgets.
"I think we figured up something like $1,500 that we're paying (PCMs) for our ninth-grade, junior varsity and varsity teams," Brock said. "We're fortunate that we can absorb that, but there will be some schools that can't."
And the GHSA will offer stiff penalties for offenders.
Violators will be subject to a $250 fine and a two-game suspension for the head coach. A second offense would net a $500 fine and a minimum suspension of four games. The coach would also have to be re-instated by the GHSA executive director.