Posted 3/1/17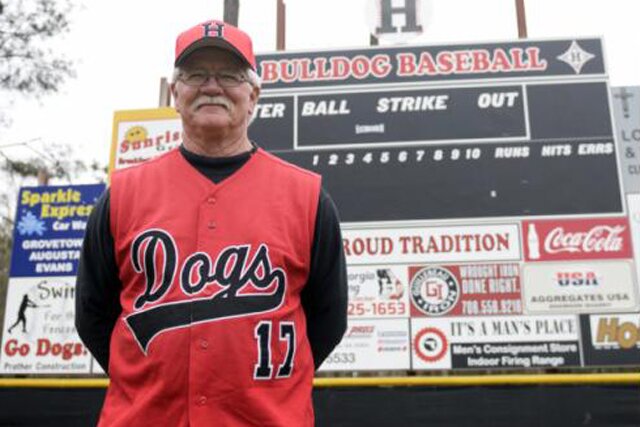 Harlem coach Jimmie Lewis, who is No. 2 on the state's active coaching list, has a 700-388 coaching record.
(Special Photo: Augusta Chronicle)
By Tim Morse
Georgia Dugout Preview
When a reporter called Harlem baseball coach Jimmie Lewis to talk about achieving his milestone 700th coaching victory Wednesday night, it was ironic that Lewis wanted to talk about his family, his assistant coaches and duck hunting -- anything to deflect attention away from himself.
The legendary coach defeated Grovetown 8-6 Wednesday night in a nonregion game, recording his 700th victory. Lewis, who ranks fourth in the state in wins, is the second winningest active coach. Westside-Augusta coach Gerald Barnes, who defeated Lewis' Bulldogs on Tuesday in a Region 4-AA game, is the winningest active coach with 861 victories through Wednesday.
But Lewis tried his best to deflect the attention.
"That means I've been here a long time," said Lewis, who took over the program in 1979. "I've been blessed . I've had some great assistants over the years and a lot of good players. It's a group effort. I tell people all the time that I just drive the bus."
Lewis is as much associated with Harlem as famous icons Laurel & Hardy. He played football and baseball before taking over the baseball program in 1979. He has guided the school to five state baseball titles, 13 region titles and two state runner-up finishes. The coach put together one of the state's top dynasties in the 1980s when he won five state titles in eight years.
He once served as the head football and baseball coach as well as athletic director. He led the football program from 1983-86, then took back over and coached from 1996-2014.
Lewis, regardless of the sport, was known for always having his teams prepared.
"He always had his teams prepared, and I think his teams were over achievers throughout his career," former Evans High football coach Marty Jackson told The Augusta Chronicle.
Lewis thanked his wife Nancy of 42 years whom he said has been with him every step. He jokes that he'll step away from coaching when the hearse arrives to pick him up.
The Bulldogs had a chance to achieve the milestone for Lewis last Saturday but lost to Grovetown, then Barnes and Westside kept him from reaching the mark on Tuesday.
Barnes told The Augusta Chronicle he was pulling for his friend.
"His program is one of the top programs in the state, consistently," Barnes said.
But the Bulldogs weren't denied on Wednesday, something Lewis said he's glad is over.
"A lot of great players won a lot of ball games for me," he said. "I just made the lineup and tried to steer them the right way."