Posted 5/25/17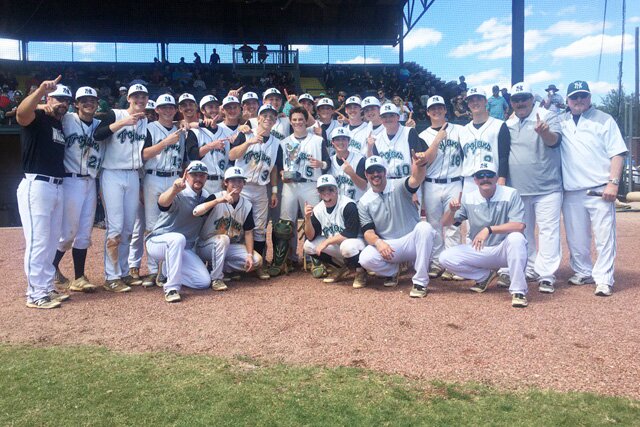 North Hall poses after sweeping Pierce County to win the Class AAA state title. (Special Photo)
SAVANNAH -- North Hall swept Pierce County in the Georgia High School Association Class AAA state championship series Thursday at Grayson Stadium.
The Trojans took the first game 9-2, then held on for a 6-5 victory in the nightcap to capture the school's first state title.
North Hall (29-11), the third seed from Region 7, erupted for three runs in the first inning of Game 1 on an RBI single from Reese Olson and Charlie Erickson's single that scored a pair of runs.
Kris Wishall's RBI single for Pierce cut the deficit to 3-1 in the second inning, but the Trojans scored two more in the third, then erupted for four in the sixth inning to take control.
Olson earned the victory after hurling a complete-game. He also went 3-for-4 at the plate with a trio of RBIs. Jackson Latty also went 3-for-4 with three RBIs.
In Game 2, the Trojans scored six runs in the third inning to take a commanding lead. The inning was highlighted by RBI singles from Olson, Latty, Dylan Lavender and Taber Mongero.
Pierce (28-9) cut the deficit in half in the bottom of the third, then added one in fourth and one in the seventh but couldn't draw any closer.