Posted 5/25/17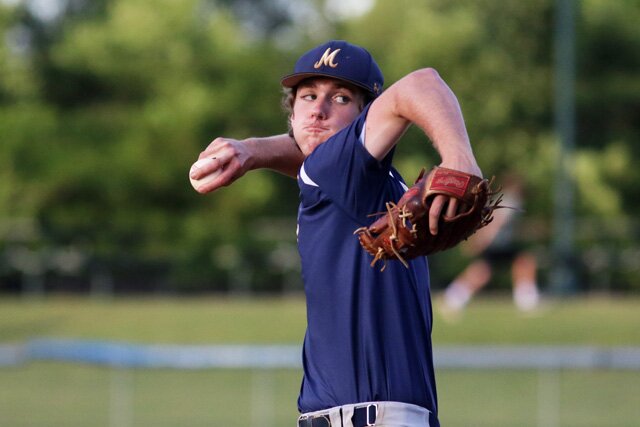 Marist pitcher Connor Stephens pitches against Blessed Trinity in Game 2 Thursday night
ROME -- Maybe it was fitting that Blessed Trinity and Marist split the first two games of the Georgia High School Association Class 4A state baseball championship series Thursday night at State Mutual Stadium.
The two programs have combined for seven state championships and a state runner-up finish since 2000.
When Blessed Trinity, the Region 7 champions, run-ruled region rival Marist 11-1 in the first game of the series, the War Eagles were pretty much left for dead.
However, Marist pitcher Connor Stephens shut down the Titans' offense after a shaky first inning and helped the War Eagles take the nightcap 7-2, forcing a winner-take-all Game 3 Saturday morning at 11 a.m.
"Connor was very good. He has a lot of poise. He did not have a great start, but he still had the ability to kind of gather himself and give us an opportunity to catch our breath," Marist coach Mike Strickland said. "They got after us pretty good in Game 1. Connor's ability to withstand the first inning and then kind of slow the game down a little bit, that was really big for us."
After Blessed Trinity's Colin Davis and Jake Lundkovsky ripped back-to-back doubles to give the Titans a 2-0 advantage in the first inning, Stephens scattered just two hits and worked five scoreless innings before leaving the game in the seventh inning.
Stephens got all the run support he needed in the top of the third when the War Eagles struck for six runs, the biggest blow coming on Chris Cathcart's triple that cleared the bases and scored three runs.
Joseph Mannelly's RBI single in the fifth gave Marist an insurance run to make it 7-2.
The War Eagles, however, were stifled by left-hander Peyton Glavine in the first game. The senior allowed just a run on five hits, while the offense provided plenty of support.
Blessed Trinity erupted for 14 hits, including 3-for-3 performances from Davis and Jake Lundkovsky, who added four RBIs. Mitchell Weidner added a solo homer.
Out of all the state championship series' on Thursday, Blessed Trinity-Marist is the only one headed for a third game.
Blessed Trinity coach Andy Harlin believes his team will be ready.
"Our guys are going to compete until they are dead," he said. "You go into a Game 3 and a championship, it's going to be a lot of fun, no question."