Posted 5/27/17
Marist players pose after winning the Class 4A state title on Saturday
?
By Tim Morse
Georgia Dugout Preview
?
ROME -- The ball lazily drifted into foul territory and senior catcher Jamie Taylor called off his teammates to shag the final out of the game.
Then his teammates mobbed him in the infield as Marist held on for a 4-3 victory over top-ranked Blessed Trinity in Game 3 of the best-of-three Georgia High School Association Class 4A state championship series Saturday afternoon at State Mutual Stadium.
The War Eagles (25-17), playing as the home team, made the most of five hits and scored the go-ahead run in the bottom of sixth when Chris Cathcart singled, stole second and scored on Joseph Mannelly's RBI double.
"The steal at second was really big," Marist coach Mike Strickland said. "We got him in, we got the right count, got the stolen base and Joseph just got up there and decided he was going to be ready to hit during that at bat. He put a great swing on it."
After Marist sophomore starting pitcher Seb Thomas surrendered a leadoff double in the seventh, reliever Patrick Taylor retired the next three batters to help the War Eagles win their 13th state title in school but first since winning back-to-back titles in 2010-11.
Marist's 13 titles are the most by any high school baseball program in state history. Saturday's championship moved the program ahead of Columbus High, which also has 12 titles.
Mannelly's RBI double gave Marist the lead for good.
"I was just trying to pick up a teammate, that's all I was trying to do," he said. "We had two quick outs that inning and a runner on second, I was just trying to do a job and get them in."
Mitchell Weidner's leadoff double in the top of the seventh gave the Titans hope. He later moved to third base on CJ Abrams' deep fly in foul territory. But Taylor promptly got a pop-up foul ball that Jamie Taylor snagged to leave Weidner stranded just 90 feet away.
Patrick Taylor preserved the victory for Thomas, who hurled a six-inning gem. He allowed just three runs on seven hits but relied heavily on his defense.
"I've been in this before, not at this level, but I love a big stage and I love competing for these guys and winning it for the seniors because of all they've done for me," Thomas said. "It's all for them."
After Blessed Trinity run-ruled Marist 11-1 in the first game of the series on Thursday, pitchers Connor Stephens, Thomas and Patrick Taylor combined to allow the potent Titan offense just five runs in the next two games.
Like they did in Game 2 on Thursday, Blessed Trinity took an early 2-0 lead in the top of the second on Cole McNamee's double that scored two. The Titans (36-6) added another in the third on Colin Davis' RBI groundout to take a 3-0 lead.
But Marist answered with three runs to tie in the bottom of the third. The War Eagles loaded the bases and Taylor was hit by a pitch to force home a run, then Cassius Young's single scored two runs.
Blessed Trinity took three games from Marist during the regular season to win the Region 7-AAAA title, beating the War Eagles by a combined 20-6. But Marist defeated Cedartown, Cairo, Madison County and LaGrange in the state playoffs to get another crack at the Titans, who lost in the state championship series for the second straight season.
"We always knew we were a great ball club," Mannelly said. "I mean it was about time that we came in and did something like. We've been waiting on it all season, and we finally put it together."
??? ?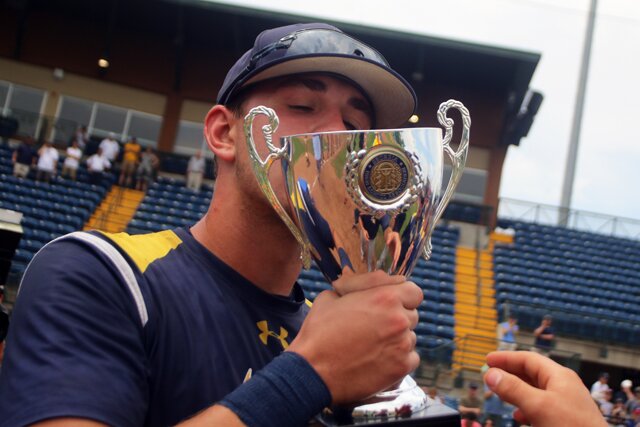 ??
Top left: Marist's Chris Cathcart steals second base as Blessed Trinity's David Dunn (3) fields
the throw; Top right: Marist pitcher Seb Thomas pitches during Game 3; Bottom left: Marist players
kiss the state championship trophy; Bottom right, Marist coach Mike Strickland celebrates after
winning the state title. (Photos by Tim Morse/Georgia Dugout Preview Magazine)
?
?