Posted 5/29/17 at 5:30 p.m.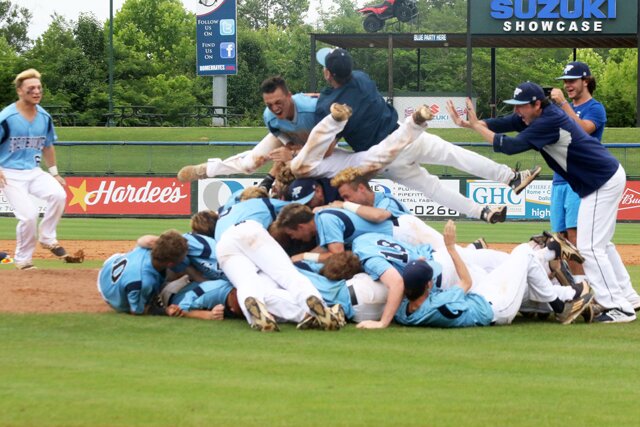 Pope players celebrate after sweeping Lee County Monday to win the GHSA Class 6A state title.
?
By Tim Morse
Georgia Dugout Preview
?
ROME -- Chase Smith pumped his fist and several of his teammates tossed their gloves into the air.
Then the madness began Monday afternoon at State Mutual Stadium.
Pope High School used dominating pitching from Ryan Webb and Smith to sweep past Lee County 2-1 and 5-1 to win the Georgia High School Association Class 6A state championship series, the third in the past nine years for the Greyhounds. It was Pope's first title since they captured the Class 5A championship in 2013.
After finishing as the state runner-up to cross-town rival Walton in the state's largest classification last year, Pope ran through the postseason with just one loss.
"We've got a very strong, close senior group and they were kind of determined," said coach Jeff Rowland. "After that last year, they were determined to not only get back here but to win it."
Webb allowed just a run on three hits to earn the complete-game victory in Game 1. Then with the momentum, Smith stifled Lee County in Game 2, allowing just a run on one hit. The only hit he allowed came when Josh Hatcher executed a perfect bunt.
The Greyhounds didn't need much offense with Webb and Smith in control. Jared Miller's RBI single in the third inning in the first game gave Pope a 1-0 advantage, then Parker Orr added an RBI single in the fifth.
Tyler Simon scored Lee County's only run in Game 1.
Then Smith kept the Greyhounds going with a dominant performance in Game 2. He said he just wanted to duplicate a similar effort that Webb, who has signed with Georgia, had.
"That guy is the man on the mound," said Smith, who has signed with Pittsburgh. "I can't say enough good things about him. As long as we throw strikes and let our hitters do what they're supposed to do, we were all right."
Pope scored two in the second inning of Game 2 when they loaded the bases. Then they blew the game open with a three-run fourth inning. A sacrifice by Michael Wynne, an RBI single by Buddy Floyd and a sacrifice fly by Miller gave Pope a commanding 5-1 advantage.
"When you have those guys (Webb, Smith) run out there, you don't have to score that many runs to win the game," Floyd said.
Rowland worried about his team being rusty after they hadn't played since defeating River Ridge in the semifinals on May 17. A weird series of events involving Lee County and Johns Creek in the semifinals pushed the championship series, originally scheduled to start on May 24, back nearly a week.
In Game 2 of the Lee-Johns Creek series on May 17, the Trojans scored two runs in an extra inning after an umpire?s decision erased Johns Creek?s apparent winning run in the bottom of the final regulation inning. Lee had won the first game of the series 7-4.
At issue was a runner on second base who did not touch third, leading the umpires to negate Johns Creek?s fourth run according to The Albany Herald.
Johns Creek appealed the game?s outcome to the Georgia High School Association?s executive director, who said the game should stand with Lee winning 5-3, and then to the GHSA Appeals Board, which denied Johns Creek?s appeal in a 3-1 vote on May 19. Johns Creek appealed that denial to the GHSA?s Board of Trustees, which overtuned the decision 5-2 on last Monday.
The decision reverted the score to 4-3, with Johns Creek awarded the win, tying the best-of-three series at 1-1.
The decisive Game 3 was originally scheduled for last Wednesday before heavy rains made the field in Leesburg unplayable. It was rescheduled for last Friday where Lee County won 8-0 to advance.
Rowland's concerns went away considering how Pope hit, pitched well and played solid defense.
"We prepared so much the past week," Floyd said. "We kind of figured we were going to see them. So were just prepared and we were ready."
??
?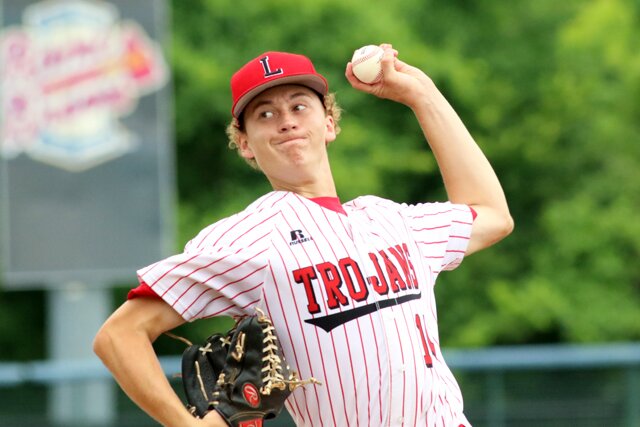 Top left: Pope pitcher Ryan Webb throws in Game 1; Top right: Pope third baseman Jared Miller, left,
tags Lee County's Tyler Simon in Game 1; Bottom left: Pope players pose after winning state title;
Bottom right: Lee County pitcher Layne Wiard pitches in Game 1 against Pope.
?