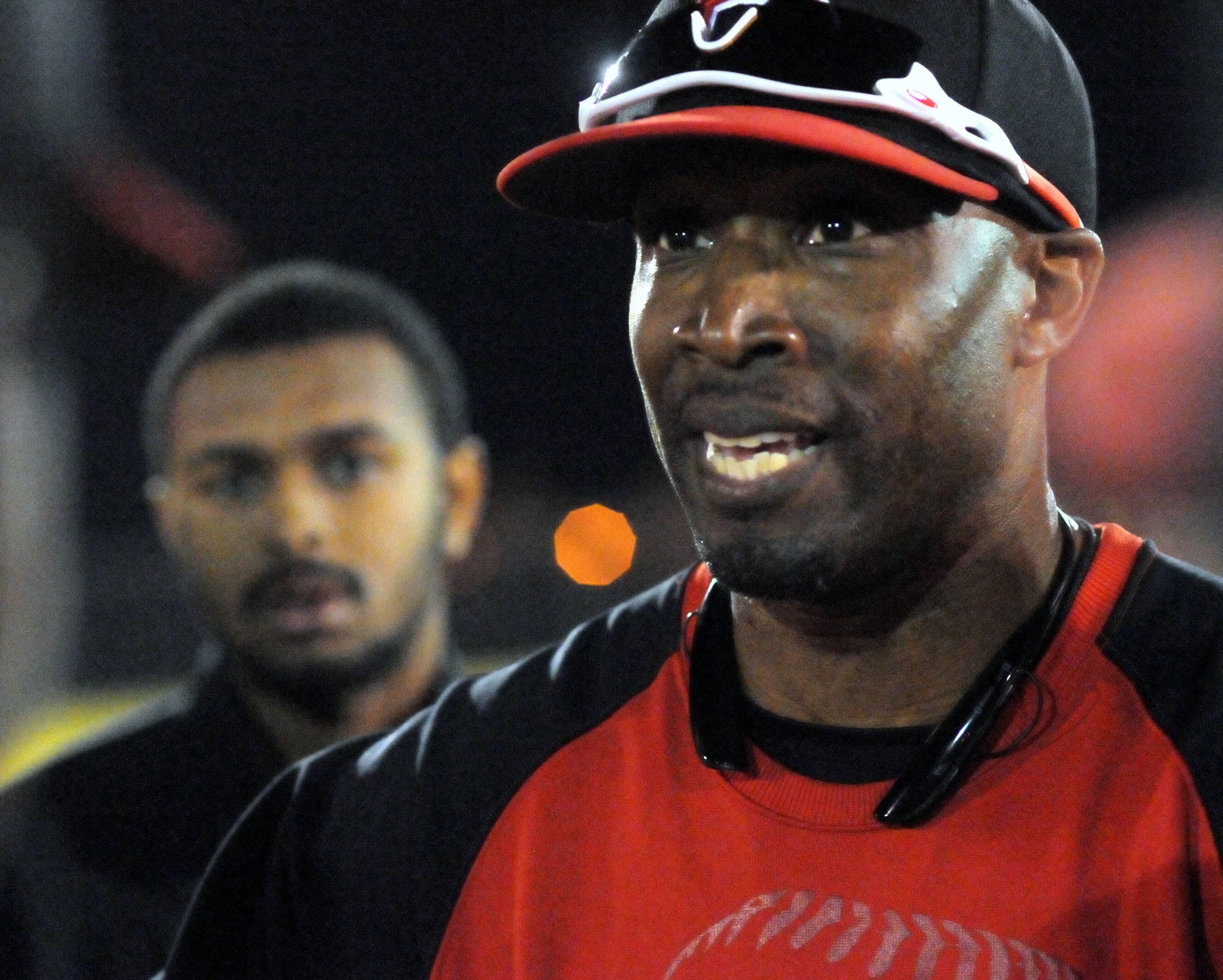 Former Dutchtown coach Kelcey White is now the head coach at Westlake. (Special Photo: Jerry Jackson)
New faces dot high school baseball landscape
Offseason change is often part of the landscape in high school athletics. Change was evident across the state among high school baseball coaches this summer.
Nearly one-fourth of the state's high schools have new baseball coaches.
The retirement of several fixtures such as Georgia Dugout Club Hall of Fame coaches Steve Dennis (Columbia) and Mike Power (Roswell) opened the door for prominent assistants Brandon Carter and Ben Sutter, respectively, to land their first jobs as head coaches.
Power may not be a head coach anymore but he's still an assistant coach at South Forsyth.
Longtime South Georgia legendary coach Bart Shuman (Valdosta) announced his retirement from Valdosta High School, opening the door for Brad Porter to return to the Georgia High School Association after spending the last several years at Tiftarea Academy, which competes in the Georgia Independent Schools Association.
But former Cartersville Hall of Fame coach Stuart Chester made perhaps the biggest splash when he took the head job at Buford High School in June, replacing longtime coach Tony Wolfe.
Chester led Cartersville to six state baseball titles in 21 seasons as the Purple Hurricanes' coach and is a Georgia Dugout Club Hall of Fame coach.
"To be honest, Buford was probably the only place in the country that I would've considered leaving (Cartersville) for," Chester told the Gwinnett Daily Post. "From the outside, everyone sees Buford for their facilities and championships, and I'm no exception. But that only opens the door and makes you peek inside. When I did that, the people at Buford are probably some of the best I've ever met.
Cartersville responded by hiring the state's all-time winningest coach, former Columbus High School coach Bobby Howard, who resigned after a month.
"They are great people and they made a great offer, but the retirement/investment piece could not be worked out," Howard told the Columbus Ledger-Enquirer.
Cartersville promoted longtime assistant Kyle Tucker.
Glynn Academy also made state news in July when they snagged Trent Mongero, who less than a month earlier, had guided North Hall to its first state title in school history. Mongero headed south after Glynn's coach Greg Roberts resigned to take back over at Frederica Academy, a GISA school.
"On one side of the equation, we feel like we are following God's will for our family's life with this opportunity," Mongero told the Gainesville Times. "On the flip side, we have to say goodbye to a community and a program that we have sunk our lives into for the last 11 years."
Trevor Flow, who previously was the head coach at Stephens County and a longtime assistant under Mongero, was promoted and took over the North Hall program.
And this year will mark the return of former Wesleyan School coach Mike Shaheen, who was hired to take over the baseball program at Mount Pisgah Christian. Shaheen guided Wesleyan to three state titles before resigning in 2011. He did missionary work in the Domincan Republic.
----------------------
Several schools have new baseball coaches. Here is a look:
| | | |
| --- | --- | --- |
| School | New Coach | Former Coach |
| Alexander | Zach Romain | Chris Brown |
| Aquinas | Andy Woodard | Stephen Hickey |
| Atkinson County | Tommy Adcock | Jeremy Edwards |
| Banks County | Peyton Hart | Tom Kelley |
| Bremen | Chris Brown | Tim Hanegan |
| Brooks County | Josh Price | Alex Robinson |
| Brunswick | Brian Crawford | Al Otte |
| Buford | Stuart Chester | Tony Wolfe |
| Cairo | Chad Parkerson | Ron Best |
| Campbell | Jeff Searcy | Mario Allen |
| Cartersville | Kyle Tucker | Stuart Chester |
| Cass | Tim Ayers | Adam Williams |
| Centennial | Matt McCarthy | Ross Book |
| Central Gwinnett | Stephen Gronsbell | Tyler Collins |
| Clarke Central | Adam Osborne | Trey Henson |
| Coffee | Sy Jones | Josh Cole |
| Dade County | Aaron Simmons | Brent Cooper |
| Dublin | Patrick Jordan | Rusty Watters |
| Duluth | Ryan Turner | Thomas LePage |
| Eagles Landing | Ronny Daniels | Ty Lewis |
| Echols County | James Hamlett | Jeff Guilliams |
| ECI | Brooks Collins | Chad Harper |
| Flowery Branch | Joey Ray | Heath Kennedy |
| GMC | Rusty Courson | Steven Simpson |
| Glynn Academy | Trent Mongero | Greg Roberts |
| Gordon Central | Jeremy Sewell | Chris Stephens |
| Grady | Darryl Farley | Daryl Pearson |
| Hawkinsville | Will Conner | Cote Jones |
| Hephzibah | Sean Kennedy | Michael Lafontaine |
| Hiram | Tim Burgess | Mike Marra |
| Lafayette | Chris Base | Mike Shank |
| Liberty County | Brandon Whitmore | Josh Davis |
| Lithia Springs | Chris Sheperd | John Fulkerson |
| Long County | James Hobbs | Wade Peterson |
| Luella | Tom Kelley | Seth Harris |
| McEachern | Karlton Schilling | Dan Torrenti |
| McIntosh Co. Academy | Jesse Barfield | Chris Base |
| Model | Ronnie Wadell | Brett White |
| Mount Pisgah Christian | Mike Shaheen | Kent Harrison |
| Norcross | Aaron Wilkens | Reggie Stancil |
| North Atlanta | Stephen Muoio | Shane Owen |
| North Hall | Trevor Flow | Trent Mongero |
| North Springs | Matt Gershon | Wally Pritchard |
| Northview | Tom Kratowicz | Aaron Wilkens |
| Paideia | Jonathan Petrash | Millard Dawson |
| Pepperell | Britt Chandler | Matt Montgomery |
| Perry | T.J. Hutchins | Lorne Tucker |
| Pickens | Adam Williams | Casey Bates |
| Prince Avenue Christian | Phil Roberts | Stan Fricks |
| Putnam County | Matt Riden | Hamner Lee |
| Riverdale | Hunter Edmundson | Brian Paige |
| Riverwood | Trey Henson | Mike Santoro |
| Rome | Jim Tejcek | Michael Dougherty |
| Roswell | Ben Sutter | Mike Power |
| Rutland | Steven Gunn | David Kelly |
| Saint Anne-Pacelli | Brent Benefield | Hart Mizell |
| Sandy Creek | Eddy Householder | T.C. Boyd |
| Sequoyah | Lane Whitley | Travis King |
| Shiloh | Reggie Ingram | Jimmy Hughes |
| South Paulding | Jay Sneddon | Pecos Galamore |
| Spalding | Seth Harris | Sal Argila |
| Sprayberry | Taylor Hightower | Phil Henderson |
| Strong Rock Christian | Toby Evans | Phil Roberts |
| Tattnall County | Ben Collins | Donny Sikes |
| Thomas County Central | Ryan Strickland | Chad Parkerson |
| Tucker | Mike Masce | Vincent Byams |
| Turner County | Zach Mauldin | David Sims |
| Upson-Lee | Tommy Parks | Wayne Puckett |
| Valdosta | Brad Porter | Bart Shuman |
| Ware County | Jamie Ammons | Tony Yeomans |
| Westlake | Kelcey White | Matthew Lindeman |
| White County | Jim Waites | Josh Bartlett |