Posted 9/25/17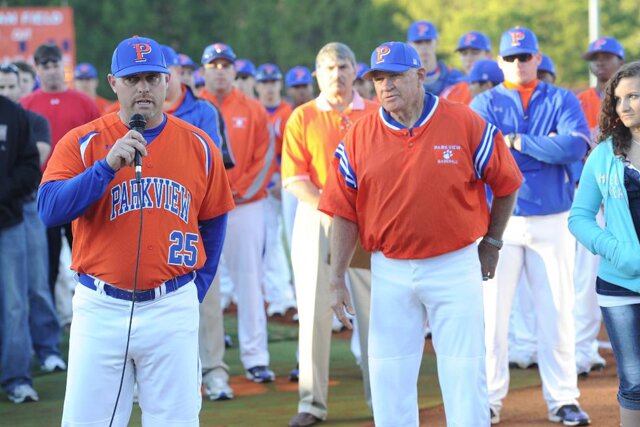 Parkview coach Chan Brown, left, will be part of the Georgia Dugout
Club Hall of Fame Class of 2018 (Special Photo: Gwinnett Daily Post)
The Georgia Dugout Club will enshrine six new members into its Hall of Fame at its annual Coaches Clinic scheduled for January 11-13, 2018 at the Marietta Hilton Hotel.
The six newest inductees include longtime Brunswick assistant coach Charles Skipper, Mill Creek coach Doug Jones, Parkview coach Chan Brown, Walton coach Shane Amos, Mercer University head baseball coach Craig Gibson and the late coach John Kurtz, who helped put Georgia College's baseball program on the map.
"Those are six guys who have made a tremendous impact in the state of Georgia, not only in just their programs, but in the entire state," said Georgia Dugout Club Executive Secretary Harvey Cochran.
"They have met every qualification you could ask for."

Charles Skipper
A native of Cochran, Ga. and a United States Air Force veteran, Skipper graduated from Middle Georgia College and Georgia Southern University.
He began his coaching career at Brunswick High School in 1984 as a volunteer assistant while student teaching. He assumed full-time duties in 1985 and remained at the school for the next 28 years. He was an assistant to legendary Brunswick coach Jimmy Brown (also a member of the Georgia Dugout Club Hall of Fame) for 23 years.
When Brown retired, Skipper took over and guided the program for five years.
During Skipper's 28 seasons, he coached in 648 varsity and more than 300 sub-varsity games. He helped more than 35 players continue their careers in college.
He received the 2003 Class 5A Assistant Coach of the Year award from the Georgia Dugout Club. He served as an assistant coach for the Georgia Dugout Club Southeast All-Stars in 2007 and 2011. He was awarded the 25-year Service Award from the American Baseball Coaches Association in 2009.
Skipper also received a letter of recognition from the United States Congress for his contributions to the Glynn County School System as a coach and educator in 2016.
"I'm very excited and it's an honor to be inducted into the Hall of Fame," Skipper said. "I feel lucky to be included. I was able to do for a living what I loved, and I never looked at it as a job. I cherished the relationships I built over the years with players and coaches.
"I was very fortunate to be placed in a school where I was able to coach under Jimmy Brown. He taught me how to carry myself with class and to respect the game."

Doug Jones

The longtime coach is the only skipper in Mill Creek High School's baseball history and his programs annually rank as one of the state's best. Jones said he's humbled to be part of the Class of 2018.
He may have never won a state title in his career, but he has left a positive stamp on prep baseball in Gwinnett County.
"I'm shocked," Jones said. "Coaching baseball is like a ministry to me. It's a calling. It's what God has called me to do. We've had some bumps and bruises along the way, but we've made it."
After graduating from Parkview High, he played collegiately at Mercer before receiving his first job offer as assistant football and head baseball coach at Jackson County where he spent one season before moving over to Parkview.
He was a football assistant and he coached under legedary Parkview baseball coach Hugh Buchanan (also a Georgia Dugout Club Hall of Fame member).
Jones left Parkview after seven seasons and became the head baseball coach at Brookwood High School in the fall of 1998. His best Broncos team was in 1999 when Brookwood finished as the state runner-up to nationally-ranked Lassiter in the state's highest classification. He stayed at Brookwood until 2004 when Mill Creek opened.
He boasts a 400-214 career coaching record and he has helped guide two teams to appearances in the state semifinals. He has coached Team Georgia and the Georgia Dugout Club's Northeast All-Stars on multiple occasions.
Jones has also been a football assistant at every stop and is just as respected on the football field.

Chan Brown

One of the state's decorated young coaches, Brown inherited the Parkview program from longtime coach Hugh Buchanan in 2005 and has kept the Panthers among the nation's top programs.
A 1991 graduate of Tucker High School, Brown played collegiately at Hillsborough in Tampa, Fla., before returning to Georgia and playing under Mike Hurst (also a Georgia Dugout Club Hall of Fame member) at Georgia State.
He returned to Tucker in 1996 as a volunteer baseball and football coach. He was the head baseball and assistant football coach at Elbert County (1998-2001), assistant baseball and football coach at Northwest Whitfield (2002) and assistant baseball and football coach at Parkview (2003-04).
In 18 seasons as a head baseball coach, he boasts a 375-137 record. He has guided the Parkview program to nine region titles and three state titles (2011, '12 and '15). His 2012 team was voted the national champions by Baseball America.
Meanwhile, the 2015 Parkview squad was named national champions by five national media outlets, including Baseball America and USA Today.
Brown was also named National Coach of the Year in 2015 by USA Today, Max Preps, Perfect Game and Baseball America. The American Baseball Coaches Association (ABCA) named him Southeastern Regional Coach of the Year three times (2011, '12 and '15), and the Baseball Coaches Association named him Regional Coach of the Year in 2015.
He boasts three Georgia Dugout Club Coach of the Year honors and three Gwinnett Dugout Club Coach of the Year awards.
"Coach (Hugh) Buchanan was my mentor at Parkview," Brown told USA Today in 2015. "He was here for 28 years. He and Roy Massey, helped groom me into what I am."
Brown has coached in several national events. In 2013, he was head coach of the East squad in the Perfect Game All-American Classic. He also led the Team USA 15U squad to a gold medal in the Pan Am Games in 2013. Brown also guided Team USA 15U to a silver medal in the World Games in Mexico in 2014.
He has had 12 players drafted and sent more than 90 to college during his career.

Shane Amos

A standout catcher/designated hitter at Osborne High School under legendary coach Donnie English (also a Georgia Dugout Club Hall of Fame member), Amos returned to Cobb County after college and left a lasting mark on the high school baseball circuit.
He attended West Georgia where he worked with the athletic department as a trainer for the football and baseball teams. He worked under longtime West Georgia baseball coach Archie White (also a member of the Georgia Dugout Club Hall of Fame).
Amos has coached at Pebblebrook and Walton. He boasts a 348-181 coaching record, most notably in his 30 seasons at Walton. He guided the Raiders to state titles in 2007 and 2016 while playing in Georgia's highest classification.
His teams have won four region titles, made 15 postseason appearances and played in two state semifinals.
"I am humbled and honored to be inducted to the Georgia Dugout club Hall of Fame," Amos said. "I am fortunate to have had great coaches and players along this journey to make my coaching career joyful and fun. I have to give God all the honor and the glory for my success."
Amos has been named Georgia Dugout Club Coach of the Year four times. He was named Atlanta Braves 400 Club Coach of the Year in 2007, while his 2016 state championship squad was named the Atlanta Braves 400 Club Team of the Year.
In 2016, the American Baseball Coaches Association named Amos its Diamond Baseball Southeast District 3 Coach of the Year.
Amos has also coached the Georgia Dugout Club All-Stars five times and served as the Georgia Dugout Club President in 2016.

Craig Gibson

Gibson quietly has established the Mercer University baseball program as one of the nation's best. The longtime coach has spent the past 15 seasons having led the Bears to unparalleled success during his tenure including a Top-100 ranking as a program by D1Baseball.com.
Since taking over for long-time skipper Barry Myers in 2004, Gibson has guided the Bears from the depths of the Atlantic Sun Conference to the top of the SoCon as one of the most respected programs in the southeast including an unprecedented run over the last eight years.
Under Gibson's tutelage, Mercer has set a program record with eight-straight seasons of 35 wins or more. Gibson holds a 470-331 career coaching mark.
He has helped develop countless players and sent them into the professional ranks. Perhaps his biggest was 2016 Golden Spikes Award winner and consensus All-American Kyle Lewis, who was drafted No. 11 overall by the Seattle Mariners in the MLB Draft. Gibson's mentorship of Lewis helped the junior center fielder develop into one of college baseball's premier positional players.
John Kurtz
It's hard not to talk about Georgia College baseball without mentioning legendary baseball coach John Kurtz. Kurtz's name adorns the Bobcat's field after directing the program for 18 seasons. The longtime coach passed away in the fall of 1993 at practice.
Kurtz's resume is impressive. He compiled a 577-369-4 record, leading the Bobcats from 1976 to 1993. He led the program to seven Georgia Intercollegiate Atheletic Conference Championships and four NAIA District 25 titles. He guided two of his teams (1984 and 1985) to the NAIA World Series.
He coached 14 All-Americans and 45 All-District honorees and he led the program to 14 winning seasons. Five of his teams won 40 games or more and two teams won 50 or more games.
During his time at the school, he also coached the men's soccer team.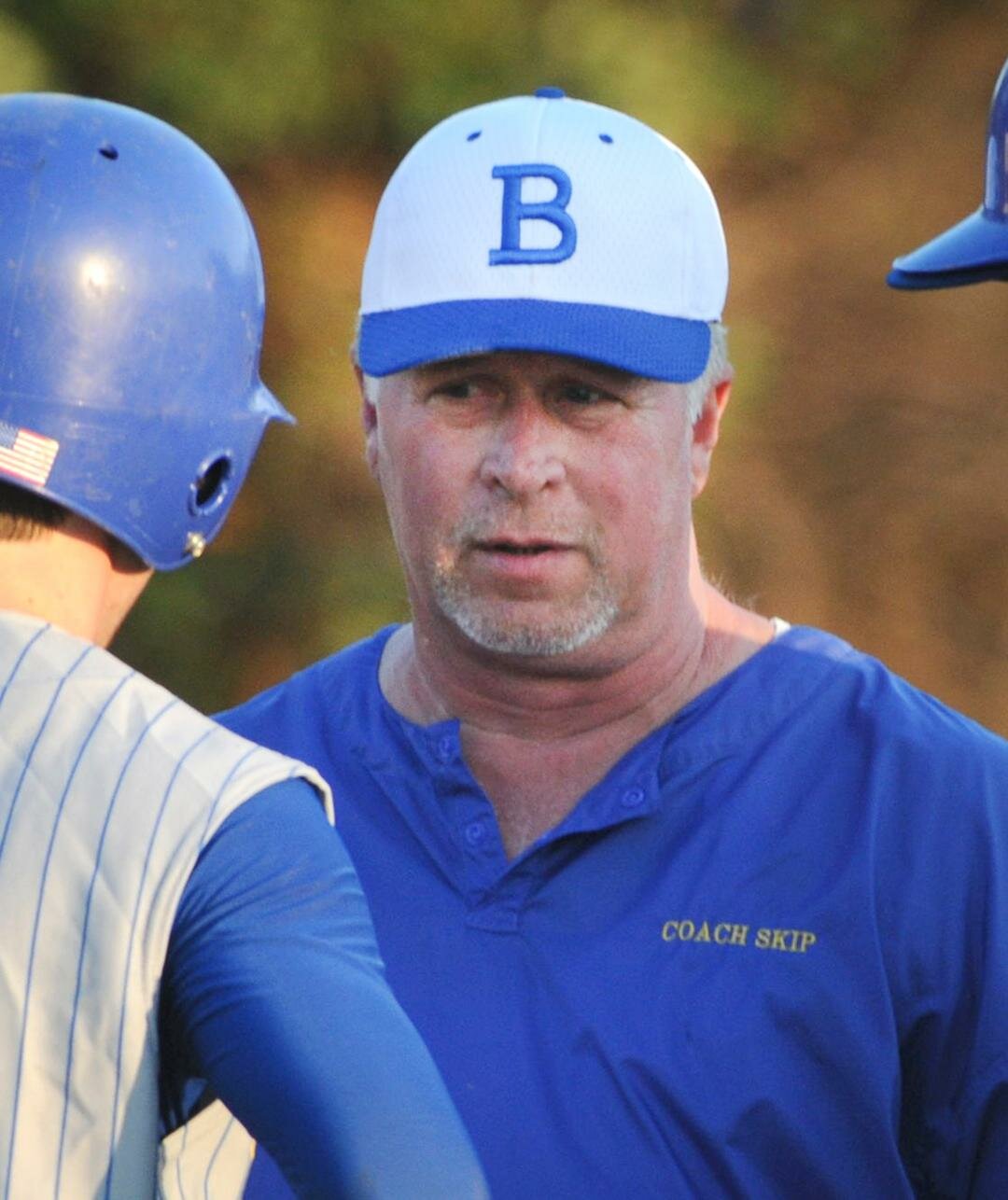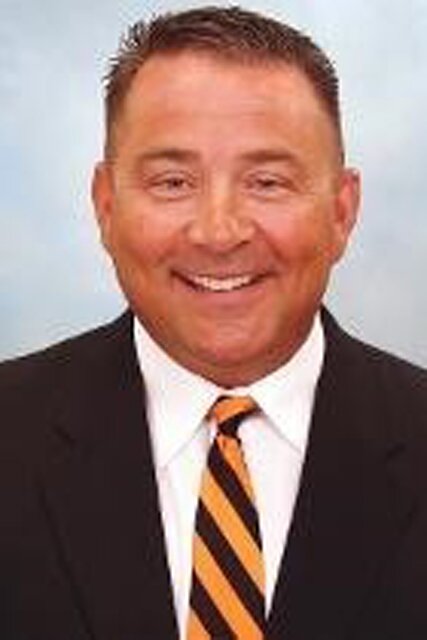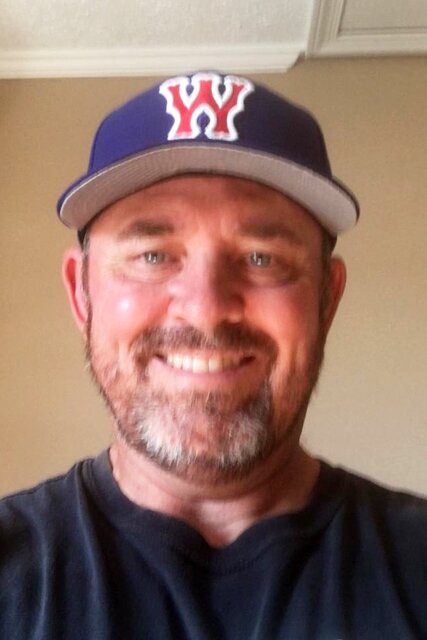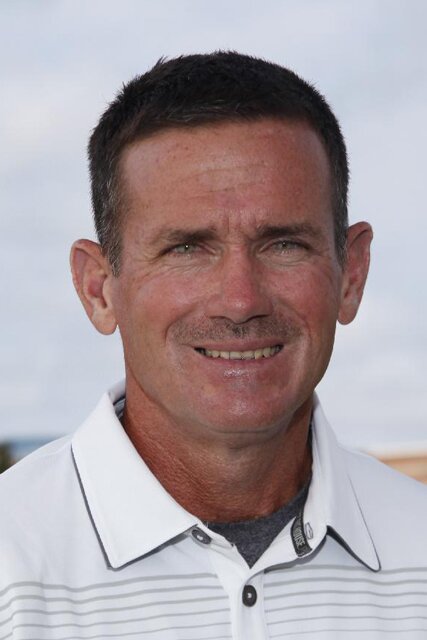 Georgia Dugout Club Hall of Fame Class of 2018, top row (l-r), Charles Skipper, Craig Gibson,
middle row (l-r), Shane Amos and Doug Jones. Bottom row, John Kurtz. (Photo credits: Georgia College, Mercer University, Gwinnett Daily
Post and Bobby Haven of The Brunswick News.