Posted 10/15/17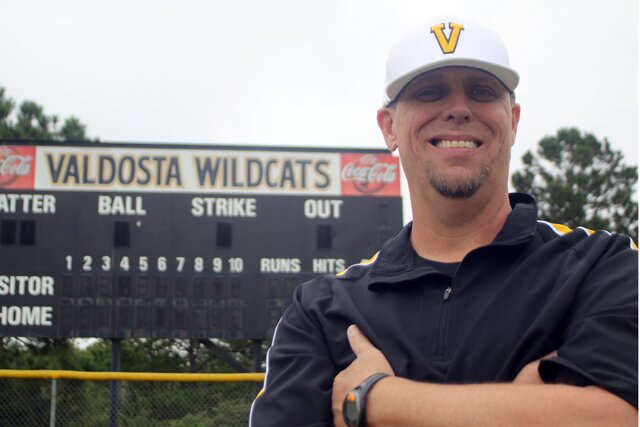 New Valdosta High baseball coach Brad Porter will be presented the Ethics in Coaching Award
from the Georgia Dugout Club at its annual clinic in January.
Porter to be honored by Georgia Dugout Club
VALDOSTA -- Brad Porter was on his way to treat his family to a steak dinner last Friday evening when he received a phone call from Georgia State head baseball coach Greg Frady.
Frady, who chairs the Georgia Dugout Club's Ethics in Coaching Committee, called to tell Porter that he would receive the Ethics in Coaching Award.
Porter was stunned.
"My first thought was, 'Really,' " he said. "I have known Coach Frady for a long time and I respect him so much. I could tell the seriousness in his tone. But what do you say when you are given an award of that magnitude?"
The first-year Valdosta High School coach will be honored at the annual Georgia Dugout Club Coaches Clinic at the Marietta Hilton on January 12, 2018. Porter, who was hired to lead the Wildcats in July when longtime coach Bart Shuman retired, had spent the previous five seasons at Tiftarea Academy in Chula.
He also has head coaching stops at Coffee High and Atkinson County in South Georgia, as well as Madison County (Fla.) High School. He played at Rickards High in Tallahassee before playing under Frady at North Florida Community College.
Porter played at West Florida where he earned his degree before returning as an assistant coach at North Florida.
He remains well-respected on the diamond and away from the game. Porter still receives countless phone calls and invitations from former players which range from asking for advice and to attend events such as weddings.
Porter said building relationships and mentoring athletes mean more than coaching victories.
"I'm still in awe ... there are so many guys that I look up to who they could have given this award to," Porter said. "After the call, I just started praising God. I'm humbled by it. My trophy has always been what they become after they come out of my program."
The award is the highest honor given to a high school coach in Georgia. Frady, who was inducted into the Georgia Dugout Club Hall of Fame earlier this year, said the decision to honor Porter was an easy one.
"He's constantly been a role model for all the kids in his programs," he said. "He's also an excellent husband and father. I'm very happy for him."
A devout Christian, Porter was the Fellowship of Christian Athletes Director at Coffee and at Tiftarea. He served as the FCA Regional Director on an interim basis.
Colquitt County baseball coach Tony Kirkland also received the Ethics in Coaching Award in 2014. He has coached against Porter on many occasions.
"He's a man of high faith," Kirkland said. "As far as his Christian character, he's jam up with that."
Porter guided Tiftarea Academy to an appearance in the Georgia Independent Schools Association state championship series in 2014 and two appearances in the state semifinals. His career coaching record is 359-172.