Posted 2/21/18
Updated: 4/9/18 with Mercer University's OrthoGeorgia Park serving as a host site.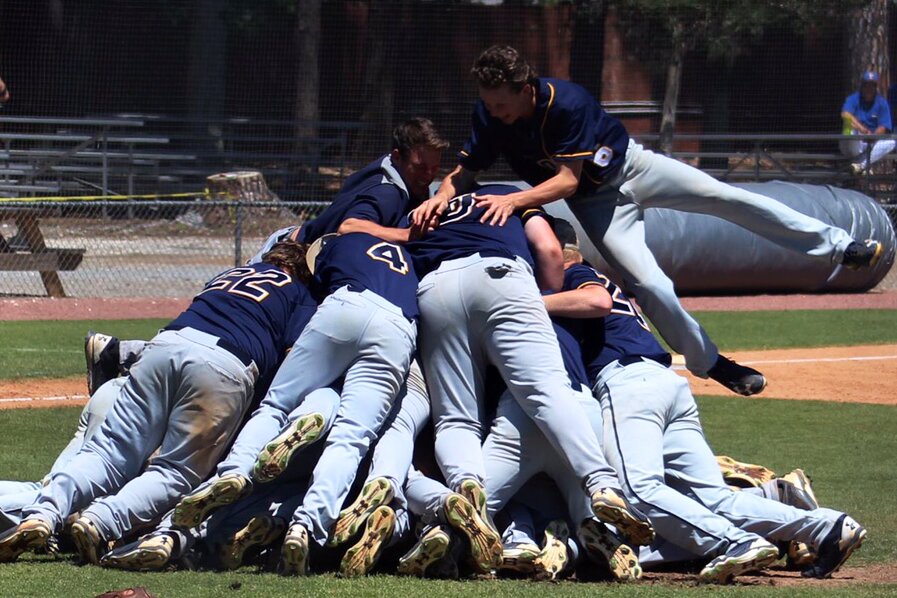 Jeff Davis celebrates after winning the Class 2A state championship at Savannah's Grayson Stadium last May.
The GHSA is going to four neutral site venues instead of two later this spring. (Special Photo)
Mercer's OrthoGeorgia Park added as host site
By Tim Morse
Georgia Dugout Preview
The Georgia High School Association will increase its state baseball championship venues from two to four this spring, the Georgia Dugout Preview Magazine has learned.
Rome's State Mutual Stadium and Savannah's Grayson Stadium, which served as host sites in 2017, will continue to host baseball championships. Mercer University's OrthoGeorgia Park at Claude Smith Field and Georgia's Foley Field are the two additional sites. Originally, Luther Williams Field in Macon was scheduled to host, but weather has delayed construction on a $2.5 million renovation project. The venue won't be complete in time for May's state championships.
The GHSA went to neutral site state baseball championships last spring with State Mutual Stadium and Grayson Stadium hosting four series apiece.
That will change next month when the four venues will play host to two championship series each. They are scheduled for May 21-23. Classification assignments will be made after completion of the second round, according to GHSA Assistant Executive Director Ernie Yarbrough.
Last season, graduations and weather forced the GHSA to make multiple changes to its state championship schedule. That is one of the biggest reasons Yarbrough said the organization likes having four venues instead of two.
"When one site was affected by the weather, with four championships being played at one site, it affected all four series at that particular site," he said. "I like the venues we have. I think they are spread out enough so that if one venue is affected by the weather, the other three may not."
Grayson Stadium played host to state championships in Classes 5A, 3A, 2A and 1A Private last year, while State Mutual Stadium hosted Classes 7A, 6A, 4A and 1A Public. All the series played in Savannah resulted in sweeps.
Yarbrough said the GHSA also considered the student athlete as well as fans and spectators who want to attend the event.
"We want to reduce travel and we want to control that as much as possible," he said. "This will also give us a chance to start later which will be better for the student athlete and the spectator, who will have a chance to watch their kids or grandkids play. It will also give the student athlete a chance to go to school for a half day if they have to take a test or something, then be able to play a game at 4:30."
Glynn Academy coach Trent Mongero, who guided North Hall to the Class 3A championship in 2017, said he likes the idea of four venues and hopes it will reduce travel. The Trojans played Pierce County at Grayson Stadium last spring.
"We had a 5 ½-hour trip last year," he said. "Many of our fans could not travel that far and miss work. Therefore, Pierce County had probably a 10 to 1 (ratio) in fans compared to us. It was also a big expense for all that is involved being close to six hours from home."
Chuck Cheek took Schley County to the Class A Public state championship last May, the Wildcats' second title in three seasons. While he said his team's experience at State Mutual Stadium was excellent, he favors championships going back to high school sites. Schley defeated ECI for its first state title in 2015.
"Rome was great and we enjoyed going there," Cheek said. "But it didn't compare to be being able to play at home when we won in 2015."