Posted 3/2/2018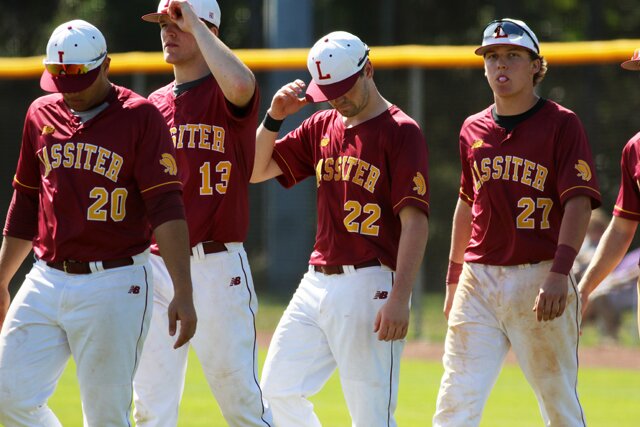 With most teams beginning region play, most tournaments and diamonds days have been completed. However, Perfect Game will hold its sixth annual Perfect Game High School Showdown starting March 8 at Lake Point Complex in Emerson, Ga. The tournament runs through March 10 and will involve some of the best high school programs in the nation.
A wealth of Georgia high schools will compete including Loganville, Troup, North Gwinnett, Grayson, Cartersville, Parkview, Hillgrove, Northview, Buford, Blessed Trinity and Brookwood.
Class 7A
North Forsyth cracked the Top 10 this week after a big week that included victories over Northview, Gainesville and Dunwoody. In a 2-1 victory over Northview on Feb. 27, pitcher Tyler Fairchild pitched six innings and allowed an unearned run. He struck out nine and walked just one but got a no-decision. The Raiders got strong offensive performances from Clay Bardall and Colin Sanders. Bardall finished the week 4-for-11 with a double, a homer and two RBIs. Sanders finished the week 5-for-10 with a homer and five RBIs.
Woodstock remains undefeated after a week that included victories over Rome, Pickens, McEachern and Kell. Part of the Wolverines' success could be attributed to senior Ethan Foley. He went 2-0 on the mound last week, pitching eight innings and allowing a combined six hits. He also struck out five. Foley was just as important on offense where he batted .364 with an RBI.
Parkview finished the week with three wins and one loss and won the Georgia Peach Invitational. The Panthers defeated St. Thomas (Fla.) Aquinas, Lee County and Lambert in the tournament. Part of the team's success was because of pitchers Braden Hays and Robert Bennett. Hays allowed just a run on four hits, walked one and struck out eight against St. Thomas Aquinas. Bennett pitched a complete-game shutout against Lee County, the No. 3 ranked team in Class 6A, on Saturday. Bennett allowed just four hits, no walks and struck out nine.
Class 6A
Valdosta High is 9-0 under first-year coach Brad Porter and a handful of players helped the Wildcats to two key wins over Florida schools last week. Against Lawton Chiles High of Tallahassee, Fla., Colby Thomas went 3-for-4 with a double, a homer, three RBIs and scored three runs. He went 2-for-4 with a double and a pair of RBIs to help Valdosta defeat Madison County. Teammate Avery Stephens allowed just one hit and struck out 11 in 5 2/3 innings to earn the victory on the mound against Madison County.
Stephens had a pair of impressive pitching performances earlier this season. In a victory over Alabama private school power Glenwood on Feb. 19, he allowed no earned runs, four hits and a walk in 5 1/3 innings while recording four strikeouts. Then against Ponte Vedra (Fla.) on Feb. 23, he earned the complete-game victory. He didn't allow an earned run, while striking out 12.

Class 5A
Villa Rica senior pitcher Jesse Martinez threw a complete game, three-hit shutout against Newnan with 13 strikeouts and just two walks in a 7-0 victory.
Class 4A
Cartersville went 3-1 last week losing to Etowah but defeating Rome, River Ridge and Forsyth Central. A big part of the Hurricanes' success was because of junior right-handed pitcher Gage Morris.
In three relief appearances (against Etowah, Rome, and River Ridge), Morris pitched a combined 8 2/3 innings, allowing just one unearned run with no walks and six strikeouts. He earned the save against Rome. Against River Ridge, Morris pitched 5 2/3 innings, allowing two hits, no walks and four strikeouts in a no-decision against the top-ranked team in Class 6A.
Outfielder/catcher La'Borris Buchanan continues to perform well for Westover High School. He went 3-for-6 at the plate with a double, stole two bases and scored three runs. He also threw out a runner attempting to steal. First baseman/pitcher De'Juan Canty went 2-for-3 against GISA power Deerfield-Windsor with a pair of RBIs. He also pitched 1 2/3 innings of shutout baseball with two strikeouts.
Class 3A
Ringgold continues to play well and is still ranked No. 2. The Tigers went 2-1 the week of Feb. 19-24 with victories over North Paulding and Heritage-Catoosa. Part of Ringgold's success was because of strong pitching from Nathan Camp (4 IP, 1 hit, 5 strikeouts, 1 ER), Holden Tucker (3 IP, no hits, 4 strikeouts and a save), Casey Pate (3 IP, no earned runs and three strikeouts) and Wyatt Tennant (5 IP, eight strikeouts and one earned run). Daulton Schley went 5-for-10 at the plate with four doubles, while Tucker went 5-for-10 at the plate with two homers and six RBIs.
In an 8-1 region victory over Jenkins-Savannah on March 2, Islands pitcher Kole Newman struck out 15 in 5 2/3 innings to earn the victory. Newman has signed with Georgia College.
Class 2A
Benedictine freshman pitcher Carter Holton had the game of his life in a 10-0 victory over Statesboro on Feb. 26. The freshman threw a perfect game and struck out 17 of the 18 batters he faced.
Class 1A Public
Irwin County is off to a hot start and maintained its grip on the No. 3 spot in this week's polls. Freshman Brodie Chestnutt picked up the second win of his career on Feb. 27 in a 2-1 victory over Telfair County. He struck out 13 in the victory. Chestnutt is also red-hot at the plate, starting 9-for-20 for a .450 average. Sophomore Zach Smith continued to perform well on the mound improving to 3-0 on the season Friday night. Smith has a sub 1.00 ERA. Sophomore Kodie Spires has been another bright spot for the Indians as he has started 9-for-20, a .450 average. As a team, Irwin is batting .346 and is 7-1 overall.
Class 1A Private
Last season, Savannah Christian swept Tattnall Square in the state championship series to deny the Trojans a second straight championship. Tattnall Square got a small measure of revenge on Saturday when they hammered the Raiders 13-3. Behind pitcher Logan Fink, who allowed Savannah Christian just three unearned runs, Tattnall erupted for 12 hits in the five-inning contest. Austin Marchman went 3-for-3 with a pair of RBIs, while Brooks Gorman and Trey Ham added two hits each. Both had doubles.
Pinecrest Academy is 4-5 on the season including a 13-2 victory over perennial power Wesleyan Saturday in Columbus. Part of the Paladins' success so far has been because of senior Wil Patota. In nine games, Patota is batting .448 with four homers, six doubles, 10 RBIs and has scored eight runs. Pinecrest earned a split with Brookstone and Wesleyan on March 3, but sophomore Caleb Bohn finished with two homers, a double, seven RBIs and scored three runs in the two games.
In two starts on the mound last week, pitcher Patrick O'Rourke allowed just one earned run in 11 innings against Kings Ridge Christian and Wesleyan. He struck out a combined 17 in the two games, allowing just one walk.
Fellowship Christian sits just outside the Top 10, but the Paladins continue to play well. They lost to George Walton but took a pair of victories last week. Junior catcher Cameron Gill went 5-for-10 with a double, triple and four RBIs during the week, while shortstop/pitcher Isaac Bouton batted .500 for the week with a pair of doubles. On the mound, senior right-hander Kurtis Royalty allowed no earned runs and struck out six in seven innings pitched, Bouton pitched a complete-game shutout against St. Francis and struck out eight in seven innings. Sophomore Preston Joye pitched seven innings and didn't allow an earned run during the week. He fanned six.