Posted 5/7/18
UPDATED 05/10/18 10:15 P.M.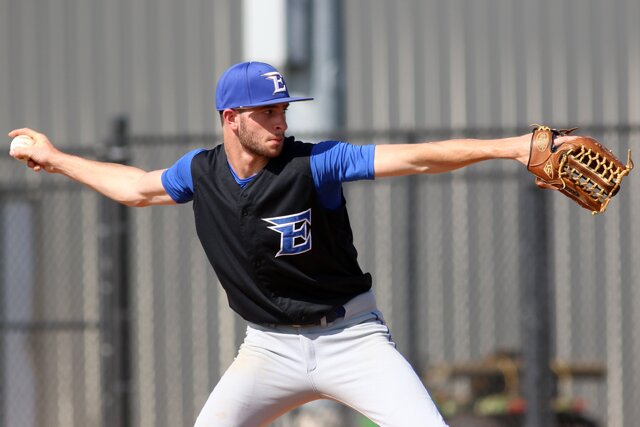 Etowah will play at Parkview in the GHSA Class 7A third round.
Pairings for the third round of the Georgia High School Association state baseball playoffs. Games will be played on May 9-10, 2018. Note that Class 1A Public will hold its third round on May 11-12, 2018.
Class 7A
Etowah at Parkview (Parkview wins series 2-0)
Game 1: Parkview 2, Etowah 1
Game 2: Parkview 5, Etowah 1
Woodstock at Grayson (Woodstock wins series 2-0)
Game 1: Woodstock 11, Grayson 1
Game 2: Woodstock 9, Grayson 2
Lassiter at Brookwood (Brookwood wins series 2-1)
Game 1: Lassiter 13, Brookwood 0
Game 2: Brookwood 6, Lassiter 1
Game 3: Brookwood 12, Lassiter 3
North Paulding at Mill Creek (Mill Creek wins series 2-0)
Game 1: Mill Creek 6, North Paulding 4
Game 2: Mill Creek 5, North Paulding 2
Class 6A
Houston County at Pope (Pope wins series 2-1)
Game 1: Pope 5, Houston County 1
Game 2: Houston County 4. Pope 2
Game 3: Pope 8, Houston County 2
Valdosta at River Ridge (River Ridge wins series 2-0)
Game 1: River Ridge 12, Valdosta 5
Game 2: River Ridge 11, Valdosta 10
Greenbrier at Alpharetta (Alpharetta wins series 2-1)
Game 1: Greenbrier 10, Alpharetta 3
Game 2: Alpharetta 16, Alpharetta 0
Game 3: Alpharetta 12, Greenbrier 4
Grovetown at Allatoona (Allatoona wins series 2-1)
Game 1: Grovetown 7, Allatoona 0
Game 2: Allatoona 5, Grovetown 1
Game 3: Allatoona 10, Grovetown 0
Class 5A
Starr's Mill at Carrollton (Starr's Mill wins series 2-1)
Game 1: Starr's Mill 6, Carrollton 4
Game 2: Carrollton 6, Starr's Mill 4
Game 3: Starr's Mill 3, Carrollton 0
Locust Grove at Loganville (Loganville wins series 2-0)
Game 1: Loganville 4, Locust Grove 1
Game 2:: Loganville 4, Locust Grove 1
Flowery Branch at Veterans (Flowery Branch wins series 2-0)
Game 1: Flowery Branch 3, Veterans 0
Game 2: Flowery Branch 3, Veterans 1
Ola at Buford (Buford wins series 2-0)
Game 1: Buford 6. Ola 2
Game 2: Buford 10, Ola 2
Class 4A
Columbus at Blessed Trinity (Blessed Trinity wins series 2-1)
Game 1: Blessed Trinity 6, Columbus 2
Game 2: Columbus 2, Blessed Trinity 1
Game 3: Blessed Trinity 7, Columbus 3
Woodward Academy at Jefferson (Jefferson wins series 2-1)
Game 1: Jefferson 5, Woodward Academy 4
Game 2: Woodward Academy 5, Jefferson 1
Game 3: Jefferson 10, Woodward Academy 5
Spalding at Cartersville (Cartersville wins series 2-0)
Game 1: Cartersville 2, Spalding 0
Game 2: Cartersville 11, Spalding 1
West Laurens at Heritage-Catoosa (Heritage-Catoosa wins series 2-0)
Game 1: Heritage-Catoosa 6, West Laurens 0
Game 2: Heritage-Catoosa 6, West Laurens 1
Class 3A
Lovett at Southeast Bulloch (Lovett wins series 2-1)
Game 1: Southeast Bulloch 5, Lovett 3
Game 2: Lovett 9, Southeast Bulloch 6
Game 3: Lovett 4, Southeast Bulloch 2
Pike County at Morgan County (Morgan County wins series 2-1)
Game 1: Morgan County 5, Pike County 4
Game 2: Pike County 10, Morgan County 0
Game 3: Morgan County 3, Pike County 2
Cook at Westminster (Westminster wins series 2-0)
Game 1: Westminster 17, Cook 7
Game 2: Westminster 7, Cook 0
Appling County at Ringgold (Ringgold wins series 2-0)
Game 1: Ringgold 3, Appling County 2
Game 2: Ringgold 8, Appling County 0
Class 2A
Berrien at Heard County (Berrien wins series 2-0)
Game 1: Berrien 8, Heard County 2
Game 2: Berrien 3, Heard County 0
Jeff Davis at Elbert County (Jeff Davis wins series 2-0)
Game 1: Jeff Davis 3, Elbert County 2
Game 2: Jeff Davis 11, Elbert County 3
Thomasville at Callaway (Callaway wins series 2-1)
Game 1: Thomasville 9, Callaway 3
Game 2: Callaway 2, Thomasville 1
Game 3: Callaway 9, Thomasville 6
Social Circle at Benedictine (Benedictine wins series 2-0)
Game 1: Benedictine 11, Social Circle 1
Game 2: Benedictine 9, Social Circle 1
Class 1A Private
Prince Avenue Christian at Savannah Christian (Prince Avenue Christian wins series 2-1)
Game 1: Savannah Christian 12, Prince Avenue Christian 0
Game 2: Prince Avenue Christian 3, Savannah Christian 2
Game 3: Prince Avenue Christian 2, Savannah Christian 1
Pinecrest Academy at Holy Innocents' (Holy Innocents' wins series 2-1)
Game 1: Pinecrest Academy 8, Holy Innocents' 4
Game 2: Holy Innocents' 8, Pinecrest Academy 5
Game 3: Holy Innocents' 14, Pinecrest Academy 7
Providence Christian at First Presbyterian Day (First Presbyterian Day wins series 2-0)
Game 1: First Presbyterian Day 10, Providence Christian 0
Game 2: First Presbyterian Day 15, Providence Christian 2
Wesleyan at Tattnall Square (Tattnall Square wins series 2-0)
Game 1: Tattnall Square 11, Wesleyan 1
Game 2: Tattnall Square 11, Wesleyan 4