Posted 2/24/19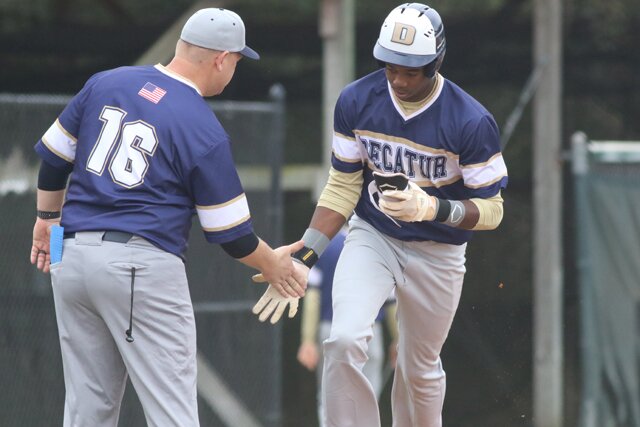 Decatur's Jordan Walker is congratulated by coach Robby Gilbert after Walker
hit a solo homer in a game against fellowship Christian.
Editors Note: Coaches are encouraged to submit their week's best performances to be included in this column each week. Submissions (by school officials only), must be submitted by 10 a.m. each Sunday to be included in the notebook. Submissions must be sent to georgiabaseball2006@yahoo.com.
Rain causing headaches for baseball coaches
Rain across much of Middle and North Georgia last week forced many baseball coaches to postpone their games. Most schools north of the mythical gnat line, which runs from Columbus to Macon to Augusta, were fortunate to be able to play any games.
Northwest Whitfield coach Todd Middleton said he lost four games to rain and wet weather. Heard County and coach Trent Bianco lost three games, including two games on Saturday against Class 2A powers Rockmart and Jeff Davis, a pair of games that were expected to give him a good idea of where his team stood.
"We will play Rockmart tomorrow (Monday), but we lost Jeff Davis," Bianco said. "I hate that because we really wanted to play them."
At Northwest Whitfield, Middleton said he has rescheduled a game with cross-county rival Dalton that was rained out last week.
He said his field is in good shape and hopes for drier weather this week.
"Last week, the rain just never stopped," he said.
NO. 1 VS. NO.2: Most top-ranked match-ups are more suited for the postseason. But not in Gwinnett County where top-ranked Pakview met No. 2 North Gwinnett on Feb. 18 in a Class 7A affair.
Jonathan Ponder ripped a two-run homer in the top of the 10th inning to help Parkview to an 8-6 victory. North Gwinnett's Michael Borah had a bases-clearing double with two outs in the seventh to force extra innings.
All-American Jonathan French finished 4-for-5 with a double, a homer and a pair of RBIs to lead the Panthers' offense.
SMALL MEASURE OF REVENGE: Blessed Trinity has caused Cartersville and its fans some grief recently in baseball and in football. On Feb. 23, the Hurricanes got a little bit of redemption by beating Blessed Trinity 8-2 in a battle of two of the top teams in Class 4A.
Pitchers Mason Barnett and Gage Morris combined to allow Blessed Trinity just two runs on four hits. The Hurricanes managed just four hits as well, but they made the most of the opportunities. J.P Martin had a three-run homer, while Brant Smith had a two-run double.
Class 7A
Woodstock pitcher Josiah Siegel hurled a perfect game in a 10-0 victory over defending Class 2A state champion Benedictine on Feb. 23. The senior struck out six in the five-inning contest. It's the second perfect game in school history. The Wolverines went 3-1 on the week. Pitcher Max Parman registered two saves, while Cason Rich struck out six and allowed just two hits in a 4-1 victory over Richmond Hill on Feb. 22. Offensively, Brennan Milone went 6 for 10 at the plate with two homers and six RBIs in four games.
Parkview went 3-0 with victories over North Gwinnett, Lassiter and Mountain View. French went 5-for-9 in the three games with a double, a homer and two RBIs. Jack Davis went 3-for-10 with a pair of RBIs. Pitcher Xander Stephens allowed just an unearned run, one hit and struck out three in a victory over Lassiter. Cameron Orr struck out six and allowed just one run in 5 2/3 innings against Mountain View.
A pair of Newnan players have gotten off to good starts this season for the Cougars. Senior Jaxon O'Neal has fanned 25 batters in 13 innings and has a 0.00 earned run average with a win and a save. On offense, junior infielder Thomas Collins is hitting .458 with three stolen bases and scored seven runs.
Class 6A
Alcovy started the season at 2-0 for the first time since 2011 with a 17-7 victory over Baldwin on Feb. 18. Ryan Spikes went 3-for-4 with two homers, a double, six RBIs and a stolen base in the victory. Chris Burney added two hits and four RBIs. Andrew Mills finished with two hits and two RBIs in the game. The Tigers lost a pair of games to Duluth and St. Pius X on Feb. 23. However, Spikes finished the week by going 6-for-10 with three homers, a double and eight RBIs.
Class 5A
Thomas County Central is off to a 6-0 start and the Yellow Jackets won games against Lee County, Warner Robins and Griffin last week. On offense, senior Nick Herndon drove in seven runs on three hits, including a double and a homer. Seniors Pace Mercer, RJ Delaney and Luke Benton all picked up their second wins of the season on the mound last week. Mercer earned the victory against Lee County, throwing five innings and allowing just an earned run on five hits and striking out five. Delaney struck out 10 in five innings against Warner Robins and allowed just four hits, while Benton threw four scoreless innings against Griffin, allowing three hits and recording two strikeouts.
Class 4A
Oconee County pitcher Luke Dickens is off to an impressive start. He is 2-0 on the season with a 0.00 earned run average. Opponents are batting just .146 against him.
Westover's La'Borris Buchanan scored two runs and stole three bases in games against Calvary Christian, Crisp County and Worth County last week. On the mound, Malcom Mathis earned the complete-game victory over Calvary Christian on Feb. 19. Mathis threw eight total innings last week, allowed two runs on four hits and struck out two. Pitcher Kedarrius Cunningham has pitched well in two games against Crisp County on Feb. 15 and Feb. 20. He has struck out nine and allowed two runs in the two games.
Class 3A
Worth County senior Gabe Goff went 7-for-9 at the plate with a homer, a triple, two doubles and seven RBIs in games against Fitzgerald, Cairo and Westover last week. He went 2-for-2 against Fitzgerald and 4-for-4 against Westover. Pitcher Jeremiah Reddell pitched eight innings in Worth's 3-1 victory over Cairo on Feb. 21. He allowed just three hits and struck out six to earn the extra-inning victory. Reddell also pitched a 10-0 shutout of Fitzgerald on Feb. 11.
Class 2A
Vidalia sophomore pitcher Landry Mead struck out 15 batters in a 5-3 loss to Trinity Christian on Feb. 23.