Posted 3/3/19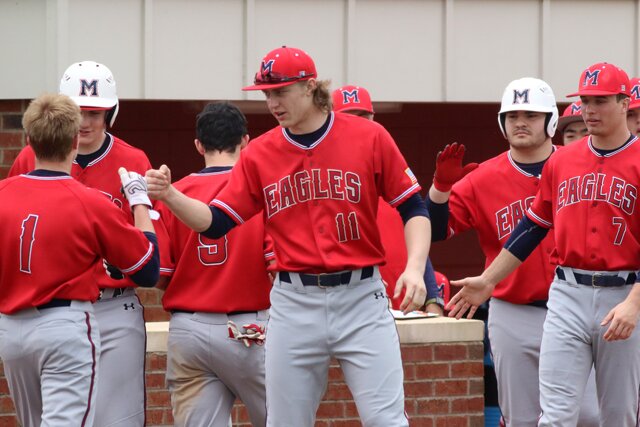 Milton players celebrate a run in a recent game.
Editors Note: Coaches are encouraged to submit their week's best performances to be included in this column each week. Submissions (by school officials only), must be submitted by 10 a.m. each Sunday to be included in the notebook. Submissions must be sent to georgiabaseball2006@yahoo.com.
Perfect Game High School Showdown starts this week
The prestigious Perfect Game High School Showdown begins on March 6 and continues through March 9. The event features 24 prep teams from Alabama, Florida, Georgia, Louisiana and Mississippi and will be played at the Hoover Met Plex and Hoover High School. The tourney was previously played at Lake Point in Emerson, Ga.
The Showdown will feature a red and blue division and each team is guaranteed to play four games (weather permitting). A total of 13 teams from Georgia including Blessed Trinity, Buford, Cartersville, Coffee, Houston County, Locust Grove, Loganville, Parkview, Savannah Christian, St. Pius X, Troup, Winder-Barrow and Woodward Academy will compete in the event.
TATTNALL SQUARE WINS EARLY BATTLE: In just the third week of the season, Class 1A Private No. 1 Tattnall Square Academy topped No. 2 Savannah Christian on March 2. Tattnall pitcher Brooks Gorman outdueled Savannah Christian's Jarrett Brown to help the Trojans win 2-0. Gorman earned the complete-game victory, allowing just one hit and fanning eight. Brown had Savannah Christian's only hit – a double in the game.
Brown struck out nine in five innings and allowed two runs (one earned) on three hits.
Class 7A
Parkview went 3-1 last week, defeating nationally-ranked JSerra (California), Lambert and Northside-Columbus. They did fall to Class 4A power Blessed Trinity. Miles Garrett helped the Panthers on the mound against JSerra. He earned the victory, allowing two earned runs and eight hits in five innings of work while striking out five. Blake Sagarese earned the victory over Northside-Columbus (four innings, one run, four strikeouts), while Cameron Orr (four innings, four hits, two earned runs and four strikeouts) earned the win against Lambert. Offensively, Makenzie Pate went a combined 5-for-9 during the week with two doubles, a homer, six runs and two RBIs. James Whitmer went 6-for-11 with two doubles, three runs and six RBIs, while Stephen Hrustich (5-for-11, one triple, two homers, seven RBIs and four runs) also had a big week.
Class 6A
Pope shortstop Buddy Floyd continues to sizzle at the plate and is batting .520 on the season. In two games against Griffin and Tift County on Feb. 23, the Pope senior combined to go 7-for-7 at the plate.
Class 5A
Thomas County Central is on verge of cracking into the Class 5A state rankings The Jackets are 9-0 and in first-place in the Region 1 standings. Last week, they defeated Bainbridge on Feb. 26, then took a pair of victories over Veterans on March 2. Pitcher Pace Mercer pitched 12 innings during the three-game stretch and earned two victories, allowed a combined three hits and struck out 15. RJ Delaney struck out 13 batters in five innings and allowed just 10 hits in the second game against Veterans to earn the victory. Delaney also sparked the offense, going on a combined 6-for-9 with a double and five RBIs in the three games. Zach Fletcher combined to go 6-for-11 with four RBIs at the plate, while Tyler Carter went 5-for-10 with a trio of RBIs.
Class 4A
In a pair of games against Deerfield-Windsor and Worth County, Westover High's Cameron Hopkins batted .400 with two stolen bases, while Antonio James had a .600 on-base percentage with a triple and a run scored. On the mound, pitcher Malcom Mathis allowed two runs on two hits in five innings against Deerfield-Windsor.
Class 3A
In a pair of victories over Mount Bethel Christian Academy last week, Dawson County junior Hudson Sapp went 6-for-6 at the plate with two doubles, a grand slam, eight RBIs and scored seven runs. He also had three walks and stole six bases. On the mound, he threw 2 2/3 innings, allowing no earned runs, one hit and striking out seven.
In a 7-2 victory over Cherokee Bluff on Feb. 26, East Jackson junior pitcher Halton Hardy pitched a complete game in his first outing of the season, allowing two runs (one earned) on four hits and recorded 10 strikeouts. He threw just 96 pitches, 78 of them for strikes. Offensively, junior Cole Sealey went 3-for-4 with a pair of doubles and an RBI. Sealey has also been impressive on the mound. In 17 innings, he has allowed just two earned runs in his three starts.
Greater Atlanta Christian went 3-1 on the week with a pair of wins over Providence Christian and one against Chamblee. Matthew Hays went a combined 6-for-12 with five RBIs, while Pirmin Brechbuhl combined to go 5-for-12 with four RBIs. On the mound, pitcher Bryceton Payne earned a complete-game victory in a 3-2 win over Chamblee on Feb. 26. Payne allowed two earned runs on four hits and struck out 11. Presley Field worked eight innings, allowing six hits and four earned runs. He struck out four batters and earned a save.
In a 2-1 loss against Apalachee on Feb. 26, Monroe Area senior pitcher Trevor Rouse allowed just two runs on five hits in six innings of work. He struck out six and walked one batter. In a 6-3 victory over Clarke Central on Feb. 27, senior pitcher Alec Houston allowed three runs on four hits, none of them earned, in 6 2/3 innings. He struck out eight and walked just one. Offensively, sophomore outfielder Bryant Olson had a big game in his first varsity start against Apalachee on Feb. 26. In addition to a big catch to rob an extra base hit, he had a hit and a sacrifice bunt.
Ringgold posted four victories in five games last week. The Tigers split a pair of games with Ridgeland, defeated Heritage-Catoosa and topped Northwest Whitfield twice. Outfielder Andre Tarver went a combined 13 for 18 at the plate with four doubles, five RBIs and scored 13 runs. Braden Broome combined to go 5-for-11 with seven RBIs, while Daulton Schley went a combined 7-for-17 with five RBIs. On the mound, pitcher Holden Tucker allowed just two earned runs and struck out seven in a 10-3 victory over Northwest Whitfield on March 2. Mason Parker also pitched 4 1/3 innings and struck out four while allowing no runs.
Class 2A
Heard County freshman pitcher Kellon Rollings made his first career start against then-No. 4 Rockmart, allowing one run and striking out three in a 2-1 victory over the Yellow Jackets on Feb. 25. Tanner Collins' two-run double was all the offense Heard County needed.
Class 1A
In a victory over Brooks County on Feb. 28, senior pitcher Weston Roberts hurled a complete game to help Echols County to a 5-1 win. He also fanned 12 in the game. Senior Hunter Morey went 3-for-3 on offense with a triple and three RBIs. Morey is batting .500 (8-for-16) this season with seven RBIs.
In a 6-1 victory over East Laurens on Feb. 19, Johnson County pitcher/catcher Brett Caneega struck out eight in five innings. He also allowed just two hits. He also went 2 for 5 at the plate. In a 4-2 victory over Calvary Day on Feb. 22, Caneega had a game-tying RBI single and also scored the final run of the game, tagging on a sacrifice fly.