Posted 3/13/19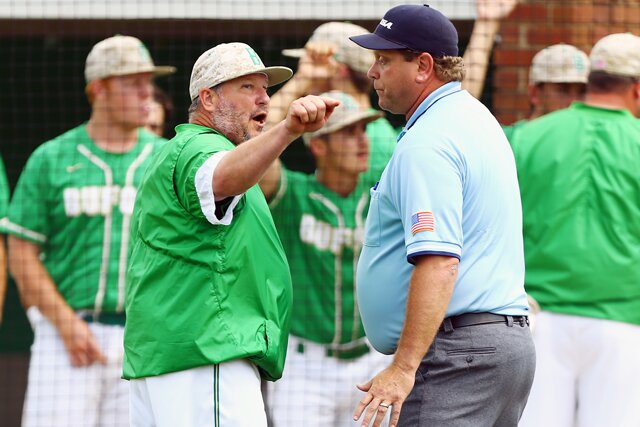 Buford High School baseball coach Stuart Chester, left, recorded his 600th career
coaching victory Wednesday night. (Special Photo: David McGregor)
Chester notches 600th career coaching victory
By Tim Morse
BUFORD -- The victory couldn't have come against a tougher opponent.
By the time Buford collected a thrilling 3-2 win over region rival Loganville Wednesday night to give legendary coach Stuart Chester his 600th career coaching victory, the Wolves and Chester were happier to get the best of their Region 8-5A rivals.
After getting beaten by Loganville twice during the regular season in 2018 and then getting swept by the Red Devils in the Georgia High School Association Class 5A state championship series, Buford won a game Wednesday evening that seemed more suited for the postseason.
Kaleb Elder scored the game-winning run in the bottom of the seventh inning when Joseph Salvo grounded into a fielder's choice. But maybe it was just meant to be as the Wolves mustered just three hits against Loganville pitchers Caleb Garner, Joseph Knight and Dawson Hammonds, who was stuck with a hard-luck loss.
Daniel Braswell's two-run double in the third inning accounted for all of Loganville's runs to give the Red Devils a 2-0 lead. But Buford (9-4, 1-0 Region 8-5A) rallied to tie in its half of the third, starting with a Brandon Jolliff solo homer. Elder tied the game when Evan Place reached on an error.
Dylan Lesko earned the victory on the mound in relief of starter Ramsey David, who allowed two earned runs on two hits in 4 1/3 innings. Lesko struck out five in 2 2/3 scoreless innings and allowed three hits.
But the victory, clearly belonged to Chester, who became just the ninth coach in Georgia high school baseball history to record 600 or more wins. The Georgia Dugout Club Hall of Fame coach holds a career mark of 600-157. He is fifth among active coaches.
The bulk of his success came at Cartersville where he turned the Purple Hurricanes into a state and national power. He guided Cartersville to six state championships, including three straight from 2001-03, in a 13-year span.
In May, 2017, Chester resigned from Cartersville and took the head baseball coaching position at Buford where he took the Wolves to a state runner-up finish in his first season.
The Dawsonville native also coached at Pickens. His resume includes 11 appearances in the state semifinals and 14 region titles.