Posted 5/8/19
Updated 5/10/19 at 8:46 p.m.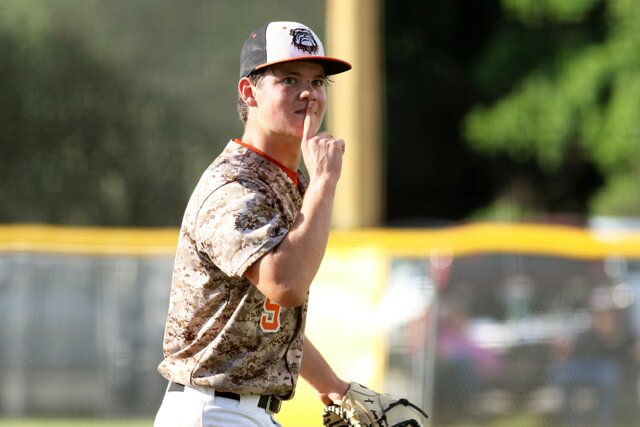 Hart County swept past Cook in the GHSA Class 3A quarterfinal round on Wednesday
Quarterfinal round scores
Pairngs and times for the third round of the Georgia High School Association state baseball playoffs. All series begin on May 8. If deciding game 3s are needed, they will be played on May 9.
Class 7A
Newnan at Grayson (Grayson sweeps series)
Game 1: Grayson 1, Newnan 0
Game 2: Grayson 7, Newnan 0
^^^^^^^^^^
Mill Creek at Hillgrove (Hillgrove sweeps series)
Game 1: Hillgrove 7, Mill Creek 4
Game 2: Hillgrove 8, Mill Creek 3
^^^^^^^^^^
Walton at Parkview (Parkview sweeps series)
Game 1: Parkview 5, Walton 3
Game 2: Parkview 7, Walton 4
^^^^^^^^^^
Etowah at North Gwinnett (North Gwinnett wins series 2-1)
Game 1: North Gwinnett 6, Etowah 1
Game 2: Etowah 3, North Gwinnett 0
Game 3: North Gwinnett 7, Etowah 0
^^^^^^^^^^^^^^^^^^^^^^^^^^^^^^^^^^^^^^^^^^^^^^^^^^^^^^^^^^^^^^^^^^^^
Class 6A
Effingham County at Winder-Barrow (Effingham County sweeps series)
Game 1: Effingham County 3, Winder-Barrow 2
Game 2: Effingham County 10, Winder-Barrow 3
^^^^^^^^^^
Allatoona at Heritage-Conyers (Heritage-Conyers sweeps series)
Game 1: Heritage-Conyers 7, Allatoona 6
Game 2: Heritage-Conyers 3, Allatoona 2
^^^^^^^^^^
Lee County at Pope (Pope wins series 2-1)
Game 1: Lee County 8, Pope 7
Game 2: Pope 18, Lee County 8
Game 3: Pope 9, Lee County 1
^^^^^^^^^^
Houston County at Harrison (Harrison wins series 2-1)
Game 1: Harrison 8, Houston County 1
Game 2: Houston County 4, Harrison 1
Game 3: Harrison 8, Houston County 7
^^^^^^^^^^^^^^^^^^^^^^^^^^^^^^^^^^^^^^^^^^^^^^^^^^^^^^^^^^^^^^^^^^^^
Class 5A
Thomas County Central at Loganville (Loganville sweeps series)
Game 1: Loganville 3, Thomas County Central 0
Game 2: Loganville 6, Thomas County Central 1
^^^^^^^^^^
Locust Grove at Riverwood (Locust Grove sweeps series)
Game 1: Locust Grove 4, Riverwood 2
Game 2: Locust Grove 8, Riverwood 3
^^^^^^^^^^
Buford at Ola (Ola wins series 2-1)
Game 1: Ola 5, Buford 2
Game 2: Buford 3, Ola 1
Game 3: Ola 8, Buford 3
^^^^^^^^^^
Harris County at Decatur (Decatur sweeps series)
Game 1: Decatur 7, Harris County 6
Game 2: Decatur 3, Harris County 0
^^^^^^^^^^^^^^^^^^^^^^^^^^^^^^^^^^^^^^^^^^^^^^^^^^^^^^^^^^^^^^^^^^^^
Class 4A
Columbus at North Oconee (North Oconee sweeps series)
Game 1: North Oconee 5, Columbus 0
Game 2: North Oconee 3, Columbus 0
^^^^^^^^^^
Northside-Columbus at Cartersville (Northside-Columbus sweeps series)
Game 1: Northside-Columbus 3, Cartersville 1
Game 2: Northside-Columbus 4, Cartersville 2
^^^^^^^^^^
Woodward Academy at Blessed Trinity (Blessed Trinity wins series 2-1)
Game 1: Blessed Trinity 7, Woodward Academy 2
Game 2: Woodward Academy 3, Blessed Trinity 1
Game 3: Blessed Trinity 2, Woodward Academy 1
^^^^^^^^^^
Denmark at West Laurens (Denmark wins series 2-1)
Game 1: Denmark 9, West Laurens 1
Game 2: West Laurens 10, Denmark 6
Game 3: Denmark 7, West Laurens 2
^^^^^^^^^^^^^^^^^^^^^^^^^^^^^^^^^^^^^^^^^^^^^^^^^^^^^^^^^^^^^^^^^^^^
Class 3A
North Hall at Appling County (North Hall sweeps series)
Game 1: North Hall 11, Appling County 2
Game 2: North Hall 10, Appling County 0
^^^^^^^^^^
Crisp County at Pace Academy (Pace Academy sweeps series)
Game 1: Pace Academy 5, Crisp County 4
Game 2: Pace Academy 14, Crisp County 0
^^^^^^^^^^
Pike County at Fannin County (Pike County wins series 2-1)
Game 1: Pike County 6, Fannin County 1
Game 2: Fannin County 9, Pike County 0
Game 3: Pike County 2, Fannin County 0
^^^^^^^^^^
Hart County at Cook (Hart County sweeps series)
Game 1: Hart County 6, Cook 3
Game 2: Hart County 7, Cook 6
^^^^^^^^^^^^^^^^^^^^^^^^^^^^^^^^^^^^^^^^^^^^^^^^^^^^^^^^^^^^^^^^^^^^
Class 2A
Jeff Davis at Social Circle (Jeff Davis sweeps series)
Game 1: Jeff Davis 6, Social Circle 4
Game 2: Jeff Davis 11, Social Circle 1
^^^^^^^^^^
Bleckley County at Bremen (Bleckley County wins series 2-1)
Game 1: Bleckley County 13, Bremen 2
Game 2: Bremen 7, Bleckley County 1
Game 3: Bleckley County 6, Bremen 5
^^^^^^^^^^
Harlem at Rockmart (Rockmart wins series 2-1)
Game 1: Harlem 8, Rockmart 5
Game 2: Rockmart 5, Harlem 0
Game 3: Rockmart 7, Harlem 1
^^^^^^^^^^
Bacon County at Callaway (Callaway sweeps series)
Game 1: Callaway 9, Bacon County 8
Game 2: Callaway 6, Bacon County 4
^^^^^^^^^^^^^^^^^^^^^^^^^^^^^^^^^^^^^^^^^^^^^^^^^^^^^^^^^^^^^^^^^^^^
Class 1A Public
Commerce at Schley County (Schley County wins series 2-1)
Game 1: Schley County 8, Commerce 1
Game 2: Commerce 11, Schley County 0
Game 3: Schley County 6, Commerce 4
^^^^^^^^^^
Johnson County at Irwin County (Irwin County sweeps series)
Game 1: Irwin County 4, Johnson County 2
Game 2: Irwin County 11, Johnson County 1
^^^^^^^^^^
Seminole County at Gordon Lee (Gordon Lee sweeps series)
Game 1: Gordon Lee 11, Seminole County 4
Game 2: Gordon Lee 15, Seminole County 0
^^^^^^^^^^
Bowdon at Clinch County (Bowdon wins series 2-1)
Game 1: Bowdon 5, Clinch County 3
Game 2: Clinch County 6, Bowdon 0
Game 3: Bowdon 4, Clinch County 0
^^^^^^^^^^^^^^^^^^^^^^^^^^^^^^^^^^^^^^^^^^^^^^^^^^^^^^^^^^^^^^^^^^^^
Class 1A Private
Strong Rock Christian at Tattnall Square (Tattnall Square wins series 2-1)
Game 1: Tattnall Square 8, Strong Rock Christian 4
Game 2: Strong Rock Christian 7,Tattnall Square 0
Game 3: Tattnall Square 7, Strong Rock Christian 6
^^^^^^^^^^
Hebron Christian at Calvary Day (Hebron Christian wins series 2-1)
Game 1: Calvary Day 2, Hebron Christian 1
Game 2: Hebron Christian 4, Calvary Day 1
Game 3: Hebron Christian 9, Calvary Day 2
^^^^^^^^^^
Savannah Country Day at Savannah Christian (Savannah Christian wins series 2-1)
Game 1: Savannah Christian 15, Savannah Country Day 0
Game 2: Savannah Country Day 13, Savannah Christian 9
Game 3: Savannah Christian 4, Savannah Country Day 1
^^^^^^^^^^
Fellowship Christian at Wesleyan (Wesleyan wins series 2-1)
Game 1: Wesleyan 5, Fellowship Christian 4
Game 2: Fellowship County 6, Wesleyan 4
Game 3: Wesleyan 20, Fellowship Christian 6