Posted 11/16/2020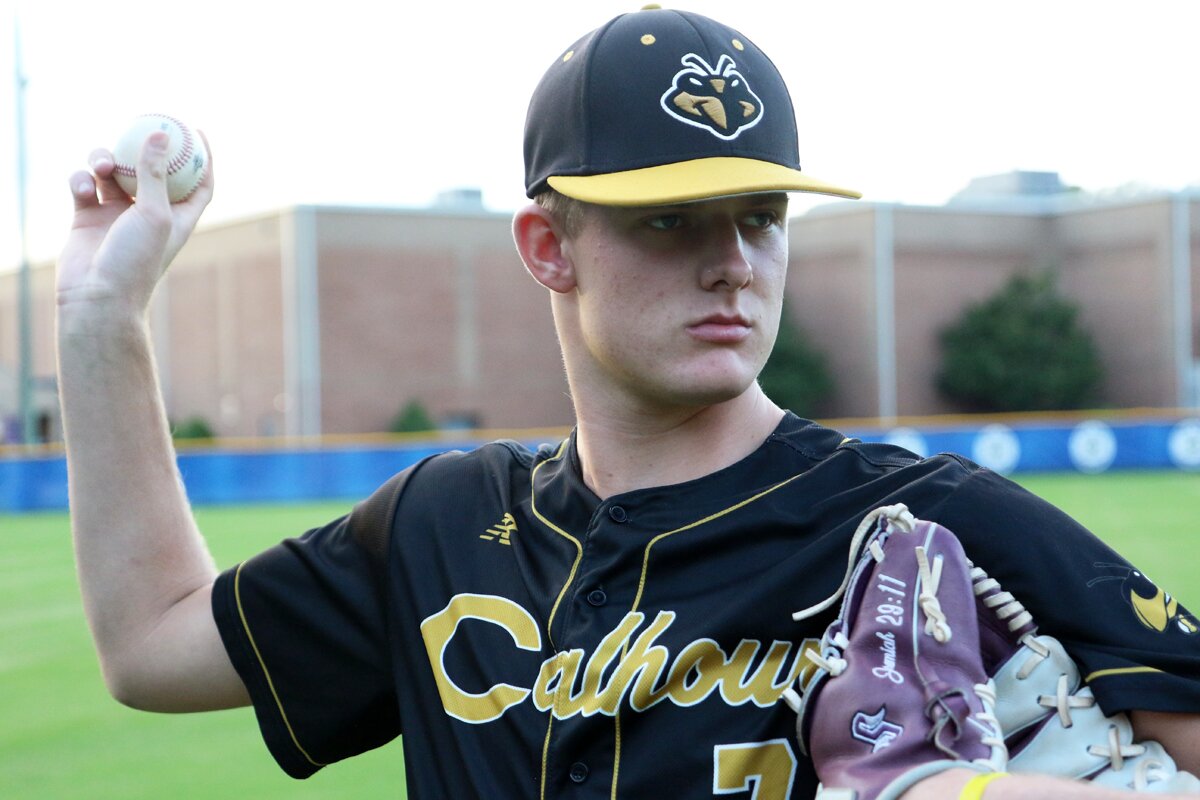 Meet Hagan Banks, a 6-foot-4,195-pound right-handed pitcher from Calhoun High School who has signed to play at Alabama. Banks is a member of the North Georgia Big 10 cover for the 2021 Georgia Dugout Preview Magazine. Here are 10 questions with him.
Q: What in-game rituals or superstitions do you have?
A: I pray before I take the mound. No one puts their hand in my glove.
Q: Who is your favorite professional sports team?
A: Atlanta Braves.
Q: What is your favorite food to eat?
A: My Maw Maws grilled cheese and homemade chocolate pie. I also love crab legs.
Q: Name one thing people may be surprised to learn about you?
A: I am very outgoing.
Q: Who is your favorite teacher and what is your favorite high school subject?
A: Coach Cole Bennett is my favorite teacher and my favorite high school subject is Math.
Q: Outside of baseball, what is your next hobby?
A: I enjoy golf and duck hunting.
Q: If you could travel anywhere outside the U.S., what would be your dream location and why?
A: I would travel to Argentina. I would love to duck hunt there.
Q: Name the person you'd like to meet the most.
A: I would love to meet Jason Aldean. We have friends that have an offshore boat at Mexico Beach, and he has fished on the boat, but I wasn't there. I would love to fish with him.
Q: Who has been the most influential person in your life?
A: Heath Phillips-Pitching Coach: Without him I would be nowhere near the baseball pitcher I am today. Over the last few years he has taught me how to take initiative and make something out of the gift God has given me. He has pushed me harder than I have ever been pushed before. He has been my role model for the last four years of my life. Thanks, "Pig!" Heath has shown me how to be a bulldog and not a princess. A quote from Heath-"Be a Billy Goat."
My dad, Bryan Banks. My dad has always been there for me since the day I could walk. Baseball, Baseball, Baseball is all we did every day from the time I was one until now. He has taught me how to be a man. Over the last 4 ½ years, my dad has worked in Louisiana. My mom is a school teacher and coach, so I have had to take on his job when he is not at home. I have helped my mom around the house and have helped drive my siblings to their practices. There is nothing in this world that could replace the bond my dad and I have. Whenever I'm in need of something, I know I can count on him to make it happen. He has shown me that even when things are tough, there is always a light at the end of the tunnel. He has also shown me that hard work pays off.
Q: After baseball, what career are you planning to pursue?
A: I would love to become a Marine Biologist.