Posted 4/26/2021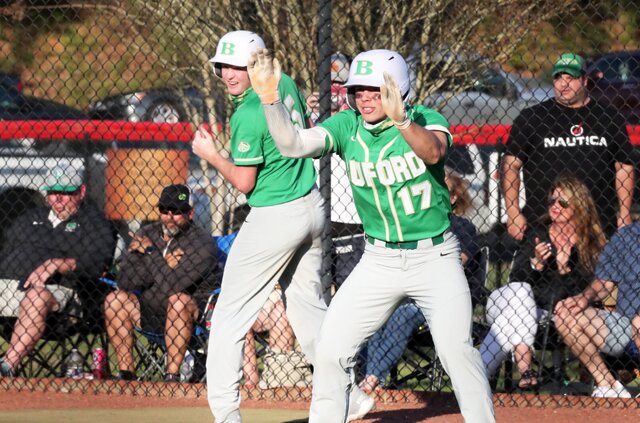 Buford finished the regular season 29-0 and enters the postseason ranked No. 1 nationally by several media outlets.
Pursuit of Perfection
Wolves chasing history
By Tim Morse
Stuart Chester has mentioned being undefeated just one time this season.
"The only time it came up was before our last game," the Buford baseball coach said. "We were playing Grayson and I told them that we might as well end it like we started."
The Wolves did just that, defeating Grayson 4-0.
Buford started the 2021 season with a 3-0 victory over Parkview, a cross-county rival, and another state and national power. From that victory, Buford has rattled off 28 more, 18 of them shutouts.
Chester hasn't had to talk about his team's unbeaten record - instead, everybody else has. Buford is nationally ranked by several media outlets, and they've held the top spot in the Georgia Dugout Preview Magazine's Class 6A poll since the preseason.
As they enter the Class 6A state playoffs this week against Alexander, they will be chasing history.
No team since Evans High School in 1989 has finished a season unbeaten. Calhoun High came close in 2010 when they entered the Class 2A state championship series against Cook with a 33-0 record, but the Yellow Jackets lost Game 1 before rallying in the final two games to win the state title.
Evans went 29-0 to win the Class 4A title in 1989, then the state's highest classification.
A year before, Berrien captured the Class 2A state title with a 31-0 mark.
Bart Shuman coached Berrien before leading Valdosta High for nearly two decades. He retired in 2017.
"We just stayed focused on the next game," he said. "Obviously (going undefeated) was in the back of our minds, but our kids were very focused. I know it sounds kind of weird, but going undefeated didn't come up too much."
Legendary Evans coach Terry Holder echoed Shuman's comments. When his Knights went unbeaten in 1989, it was in the midst of his school's state-record 61-game winning streak that spanned from the 1988 season to 1990.
"We had a bunch of guys who loved to play baseball," said Holder who guided Evans to five state titles before starting a Greenbrier program in 1997 that he led to three straight titles in the school's first three years.
"I can't say we thought a lot about going unbeaten that season. The pressure didn't really start getting put on the kids until the next year when we got put up high in the national rankings, and we had to fight it."
Much like Berrien and Evans did, Buford has dominated. Their pitching has been lethal behind a handful of players, most notably Dylan Lesko, Jackson Gaspard and Jackson Brockett.
Only twice this year has an opponent scored four runs or more on their rotation. Spanish Fort (Ala.) scored six in a 7-6 loss in March in the Perfect Game Showdown. Then in the final Region 8-6A three-game series, Winder-Barrow scored four runs in an 8-4 loss on April 12.
The offense, meanwhile, has scored plenty of runs to support its pitching staff.
"This year we've focused on Buford baseball and getting better on the field as well as off the field," Chester said. "But the elephant in the room is that zero in the loss column.
"I've gotten all sides of it. I've had some who've told me that you better lose one before you get to the playoffs. Our record is sort of irrelevant. I take pride in our schedule, and we've played about as tough of a schedule as we could have played. You always try to make it as tough as you can."
And the Wolves have survived.
They toppled Class 7A powers Parkview, Lambert and Mill Creek in their first three games of the season, beat Brookwood twice, Grayson once and Class 4A No. 1 Marist. In addition, they defeated Alabama powers Hartselle, Thompson and Spanish Fort. Chester knows his team has been tested.
But everything up until this point has been preparation for the postseason. While many fans may be enamored with the Wolves' record, Chester knows they are going to get everybody's best shot.
"You just have to keep working because anybody can be beaten," Holder said. "There are so many different variables in baseball."
Chester guided Cartersville to six state titles in a 13-year career at Cartersville. While he is in his fourth year at Buford, he guided the Wolves to a state runner-up finish in 2018, his first year at the school.
He said he had one his Cartersville team's start the season 21-0, but they lost their final regular-season game.
"I don't care how good you are," Chester said. "In baseball, you have to have the ball bounce your way and you have to stay healthy."
Something the Wolves have done to this point.