Posted 5/18/2021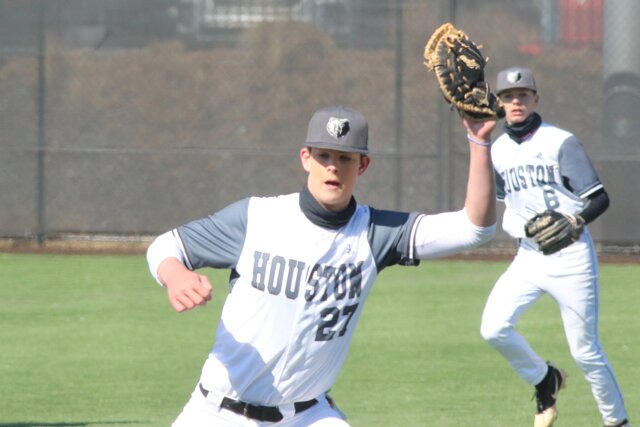 Houston County defeated Allatoona in its state semifinal series on Tuesday.
GHSA semifinal recaps from Tuesday's games.
Class 6A
Houston County at Allatoona
G3: Houston County 5, Allatoona 0
In Acworth, Andrew Dunford tossed a four-hit shutout to help Houston County defeat Allatoona 5-0 and win the best-of-three semifinal series Tuesday night. The victory sends the Bears to the Class 6A state championship series where they will play Lassiter at Truist Park. It will be Houston County's first appearance in the state championship series since 2016 when the Bears won the second of two state titles in a three-year span.
Coleman Willis' RBI single in the top of the first inning gave Houston (31-8) all the runs support it needed. They added three more in the third inning, highlighted by Drew Burress' two-run double.
Willis finished 2-for-3 with two RBIs; Gage Harrelson went 2-for-3, Trent Ringer went 2-for-3 and Burress added two hits to pace the Houston offense.
Allatoona ended its season at 33-7.
------------------------------------------------------------------------------------------
Class 5A
St. Pius X at Loganville
G3: Loganville 5, St. Pius X 0
In Loganville, pitcher Trenton Burnett tossed a one-hitter to help Loganville defeat St. Pius X, 5-0, Tuesday night and win the best-of-three Class 5A state championship series. It will be the fifth straight season Loganville (30-9) has been to the state championship series. They will play Starr's Mill in the best-of-three championship series at Truist Park.
The three-time defending state champions are also looking to make history. A fourth straight title will insert the Red Devils into the record books as the first team since Richmond Academy (1951-57) to win four or more consecutive state baseball championships.
Will Cawthon's two-run single in the fourth inning gave the Red Devils a 2-0 advantage and they never looked back. Then in the fifth, Riley Cruce's RBI single and Brocker Way's two-run triple gave the Red Devils a commanding lead. Cawthon finished 2-for-3 with a pair of RBIs, while Michael Mason added two hits.
St. Pius X ends its season at 28-12.
------------------------------------------------------------------------------------------
Class 2A
Callaway at Jeff Davis
G3: Jeff Davis 1, Callaway 0
In Hazlehurst, Cade Walters reached on a ground ball error which allowed Cole Baucom to score the walk-off run in the bottom of the seventh inning to help Jeff Davis eliminate Callaway 1-0 Tuesday afternoon in the best-of-three semifinal series. The Yellow Jackets (26-14) advance to the Class 2A state championship where they will meet Lovett in the best-of-three series that begins Saturday at 5 p.m. at Grayson Stadium in Savannah. It will be Jeff Davis' third appearance in the state championship series in four seasons.
Jeff Davis pitcher Duke Stone tossed a three-hit shutout and struck out seven in the game to earn the victory.
Callaway ends its season at 24-13.