Posted 5/22/2021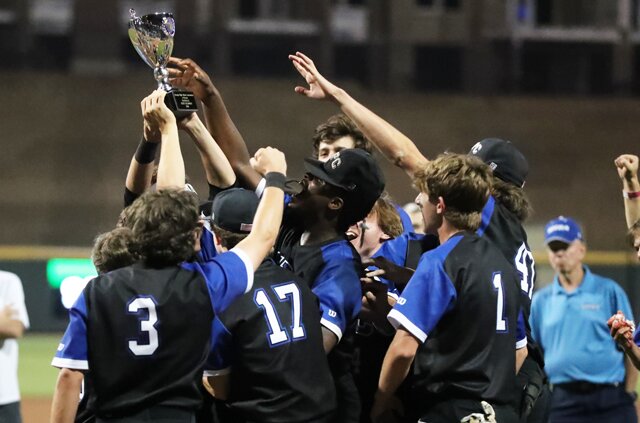 Mount Paran Christian players celebrate Friday night after winning their first state title in school history.
Soaking it in
Mount Paran Christian stuns Wesleyan to win first state championship
View photo slideshow here
By Tim Morse
LAWRENCEVILLE, Ga. -- Cam Collier yelled, tossed his glove and then got tackled by his teammates.
This one felt good.
Mount Paran pulled off a pair of dominating performances to stun top-ranked Wesleyan Friday night at Coolray Field to win the Georgia High School Association Class 1A Private School state championship. After the Eagles clawed their way to a 4-0 victory in Game 1, Mount Paran Christian finished off the Wolves in Game 2 with a 3-0 victory to sweep the series and win their first state baseball title in school history.
Sophomore right-hander Cam Collier hurled a four-hit shutout and got some excellent plays from his defense in the nightcap after left-hander Luke Dotson and Paul Farley combined on a two-hit shutout in Game 1.
Dotson, Farley and Collier shut down a Wesleyan lineup that had outscored its competition 353-101 this season, including a 70-27 clip in postseason sweeps of Tallulah Falls, Walker, Savannah Christian and Athens Christian.
But just over a week after the young Eagles dethroned two-time defending state champion Tattnall Square in the quarterfinals, then swept Fellowship Christian in the semifinals, Mount Paran ended Wesleyan's 25-game winning streak and may have put the rest of the state on notice.
With a team comprised of mostly of sophomores, this may just be the beginning.
A reporter asked Mount Paran Christian coach Kyle Reese after the game what had just happened.
"Uh, I have no idea," a stunned Reese said. "I just told our principal that I don't even remember two ball games right now. You know our guys did an incredible job of keeping them off-balanced, and they had a great approach at the plate."
It wasn't until Jake Tucker's RBI single in the fifth of Game 1 scored the first run and broke the ice against Wesleyan standout pitcher James McCoy. Later in the inning, Collier scored on Josh Fitzpatrick's sacrifice fly for a 2-0 advantage.
Collier then added a two-out, two-run triple to give the Eagles (29-4) some insurance. Dotson worked five and a third innings, allowing just two hits and striking out five before yielding to Paul Farley, who worked the final one and two-thirds innings. 
Tucker, Tyler Minnick and Jake McKee led Mount Paran's nine-hit attack with two hits apiece in Game 1.
Wesleyan's fortunes seemed to take a dive early in Game 1 of the series. Playing as the home team, a pair of walks and a hit batsman loaded the bases with one out. But Dotson induced a grounder to second baseman Josh Fitzpatrick who teamed with shortstop Alex Adams and Tucker to turn a 4-6-3 double play. The Wolves never seemed the same.
"They had the momentum and that just took it right out of them," Dotson said. "We had it the rest of the game."
The Eagles carried the momentum into Game 2, scoring a pair of runs in the first inning. Then Adams' sacrifice fly in the second inning made it 3-0. With Collier in control, that was all Mount Paran needed.
Wesleyan did attempt a late rally. In the bottom of the seventh, Carson Ballard and Joe Chatham put together back-to-back singles, then pinch-hitter Schley Gordy drew a walk to load the bases with no outs and leadoff hitter Druw Jones coming to the plate.
Jones, one of the nation's top prospects for the Class of 2022, sent a chopper to McKee at third base who fielded the ball, then threw home to Minnick for the force out. Minnick then threw back to McKee for the double play.
"Oh my God with Jones up right there at the end and the bases loaded and our guy has 104 pitches, it's just unbelievable," Reese said. "(I was thinking) am I about to screw up?"
With the Eagles' fans waiting on the last out, Collier fanned the last batter for the final out.
And the state championship.
"Man it was all team effort," Tucker said. "We've been doing it all year. We've been coming out as a team .... we just had to work as a team. That's all I can say."