Posted 5/22/2021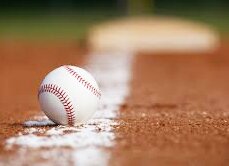 Heading to Game 3
North Hall, Franklin Co. split
LAWRENCEVILLE, Ga. -- With Franklin County's baseball season on life support, Kayne Jinks provided the oxygen the Lions needed to survive -- at least for another game.
Jinks allowed just a run on two hits in the nightcap to help Franklin County salvage a split in the best-of-three Class 3A state championship series Saturday night at Coolray Field.
Jinks pitched the Lions to a 3-1 victory in Game 2 after top-ranked North Hall roughed up Franklin in Game 1, run-ruling the Lions 13-1.
The two teams will play Monday at noon at Coolray Field in a winner-take-all Game 3. North Hall is seeking its second state title in four seasons, while Franklin is chasing its first crown.
North Hall (32-6) took a 1-0 lead in Game 1, then used an eight-run fifth inning to take control. They added four more in the sixth for a 13-0 advantage.
Jace Bowen went 3-for-3 with a pair of RBIs to lead North Hall, while Jaret Bales and Hudson Barrett each went 2-for-4 with three RBIs. Bradford Puryear and Cooper Helton both went 2-for-4 with an RBI. Bales and Helton had triples.
Bales was masterful in six innings to earn the victory, allowing just a run on four hits.
Jinks, however, was the story in Game 2 and the Lions provided him with enough run support to force a third and deciding game. He struck out 10 to earn the complete-game victory.
Franklin County (36-4) got a two-run single from Chandler Coulter in the third inning to grab a 2-0 advantage. North Hall cut the lead in half in the fourth on a sacrifice fly from Bowen.
But JD Ginn's RBI single in the fifth gave the Lions an insurance run and with Jinks in control, that was enough.
Coulter finished 2-for-4 with a triple and a pair of RBIs, while Ginn, Evan Herring and AJ Peeples each collected two hits to lead the offense.