Posted 5/22/2021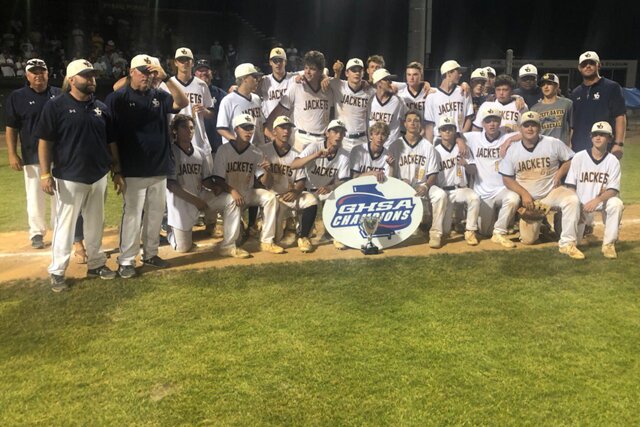 Jeff Davis swept Lovett Saturday night and won its third Class 2A state title in four years. (Special Photo: GHSA)
Champions again
Jeff Davis wins third state title in four years
SAVANNAH, Ga. -- It doesn't matter how you start. It's where you finish that matters.
Unranked Jeff Davis High School, who stumbled into the postseason and needed three games to eliminate three of its five postseason opponents, swept perennial state power Lovett Saturday night at Grayson Stadium to capture its second straight Class 2A state title and third in four seasons.
The Yellow Jackets rallied for a 5-2 victory in Game 1 to stun the Lions, then rode their momentum to an 8-3 victory in Game 2 to win the best-of-three championship series.
Cason Clance's bases-clearing triple in the bottom of the third inning of Game 2 highlighted a five-run inning. Then pitchers Cole Baucom and Alex Mason did the rest. Baucom earned the victory, but the duo combined to allow just three runs (one earned) on seven hits.
Clance's triple was the biggest blow in the inning, but Trenton Clance and Matthew Glass added RBI singles.
Glass, Hamp Hayes and Trenton Clance finished with two hits apiece to lead Jeff Davis' offensive attack.
Lovett did make things interesting in the seventh inning by loading the bases. Jeff Davis allowed a run to score when the Jackets turned a 6-4-3 double play, but Mason struck out the final batter to ignite a wild celebration.
Jeff Davis and head coach Paul Glass may be working on a dynasty in Hazlehurst. Since 2016, the earliest the program has been eliminated has been in the semifinals in 2018 when it lost to eventual state runner-up Berrien.
But this season didn't start out very promising for the Jackets who took a backseat to Region 2 champion Vidalia. They eventually finished as the region's No. 2 seed, then outlasted Jasper County, Fitzgerald, Haralson County and Callaway to make it to the final round.
"There was at one point where we lost two of three in our region to Toombs County, then we lost the first game of our region series with Bacon County," Glass said earlier this week. "We were 1-3 in region and wondering if we were even going to make the playoffs. We were like a guy in a dark room trying to find the lights."
In Game 1, Lovett led 2-1 after the first inning. Pitchers Matthew White and Lovett's Michael Hollingworth locked horns until Jeff Davis scored four runs in the sixth inning to take the lead for good.
The Yellow Jackets (29-14) got a Cade Walters bunt single sandwiched in between two Lovett errors that loaded the bases for Hayes. The senior cleared the bases with a three-run double to make it 4-1. Jeff Davis added another run in the inning, then put it in White's hands to finish.
The senior shut down Lovett over the next two innings to earn the complete-game victory. He allowed two runs on eight hits and fanned four.
Walters and White led Jeff Davis with two hits each, while Lovett's Kai Cinningham went 2-for-4 in a losing cause.