Posted 5/24/2021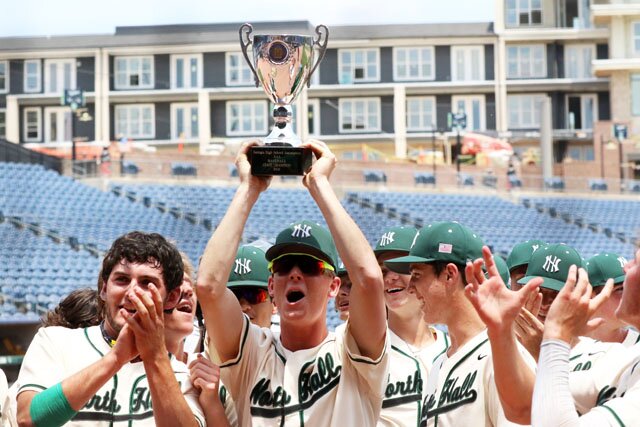 North Hall players celebrate after winning the Class 3A state championship Monday at Coolray Field.
Holding on
North Hall scores one run, makes it stand to win Class 3A crown
View photo slideshow here
By Tim Morse
LAWRENCEVILLE, Ga. -- Jaret Bales got a pop fly to first baseman Eli Reece.
No sooner than Reese hauled in the fly ball for the game's final out, Bales pumped his fist and the North Hall players erupted out of the dugout and piled onto the field.
State champs -- again.
Bales earned the save in relief of Game 3 starter Hunter Brooks. The victory helped North Hall defeat Franklin County 1-0 Monday afternoon in Game 3 of the Georgia High School Association Class 3A state championship series at Coolray Field after the two teams split the first two games of the series Saturday night.
It's the second state championship for Norh Hall in four seasons, but it's the first for North Hall coach Trevor Flow. He was an assistant on the 2017 championship team that was led by current Glynn Academy coach Trent Mongero.
"This never gets old," Flow said. "What a great matchup , what a great team and what a great series against a great Franklin County team. The first to crack, we got a huge triple from one of our leaders and we were able to produce a run. That is a really good team over there."
After Brooks and Franklin County starter Miles Dodd locked up in a pitcher's duel for five innings, North Hall's Jace Bowen lined a triple down the right field line to lead off the top of the sixth. It was just one of three hits for the Trojans (33-6). A batter later, Bradford Puryear's sacrifice fly scored Bowen.
Brooks pitched into the sixth but after giving up two hits to put runners on the corners with two outs, Flow lifted Brooks for Bales, the Game 1 winner who threw just 64 pitches Saturday night.
Brooks worked five and two thirds innings and allowed no runs on five hits. He got a hug from Flow before exiting the mound.
"That was kind of a little personal moment for me," Flow said. "When (Brooks) was in eighth-grade, I got an anonymous letter that told me not to keep that kid (as part of the team). To see him out there shoveing it in Game 3 of the series and dominating, I couldn't have been more prouder of him."
Bales entered, then walked Kayne Jinks to load the bases. Then after a 2-2 count to Chandler Coulter, Bales got a lazy infield pop up that second baseman Luke Erickson snagged.
Bales' no non-sense approach is what the Trojans needed.
"That's my mindset," said Bales, who worked one and a third innings. "Everytime I go in, that's the mindset I take. Every morning before I leave my house, I know I have a job to do."
After Dodd worked a 1-2-3 top of the seventh for the Lions (36-5), Franklin tried its best to mount a rally in its final at bat.
JD Ginn was hit by a pitch to lead off, then Evan Herring's sacrifice bunt moved pinch runner Ryder Emmons to second with one out. But Bales got a fly out to left field, then an infield fly at first that Reese hauled in.
"This means everything," said Brooks. "I've been playing with these guys since we were all about 10 years old. This is all we've ever dreamed of."
Franklin County finished with five hits, including a 2-for-3 performance from AJ Peeples.