Posted 5/25/2021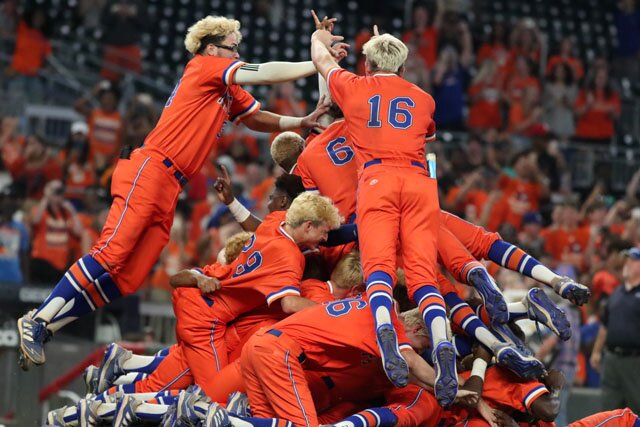 Parkview players celebrate after sweeping North Paulding to win the Class 7A state championship Monday night at Truist Park.
Back to back to back
Parkview sweeps North Paulding, wins third straight Class 7A crown
View photo slideshow here
By Tim Morse
ATLANTA -- Ryan Spikes walked North Paulding's Dylan Rhadans to put the potential go-ahead run on first base.
However, before Rhadans could touch first, pinch runner Rylan Smith took off for third base. Parkview catcher Bryson Stripling alertedly fired to Cade Brown who tagged Smith for the game's final out on a bang-bang play that sent Parkview and its fans into jubilation.
Game over.
Parkview held on for a 3-2 victory in a weird Game 2 to sweep North Paulding in the best-of-three Class 7A state championship series Monday night in front of 6,124 at Truist Park. The Panthers took Game 1 behind Mason Brown and Spikes who combined on a two-hit shutout.
The top-ranked Panthers (30-10) won their third straight Class 7A state title and the program's ninth overall. All of the program's titles have come while playing in Georgia's largest classification.
They finished the season riding an 18-game winning streak after having a serious talk about goals in early April with the team sitting at 11-10. While it may not have been the Panthers' most-dominating season, they used their trademark defense and solid pitching to claim another state championship.
But the ending of Game 2 is one that Parkview baseball fans will talk about for a while.
"That play happened so fast," sophomore Colin Houck said. "This feeling is incredible. I've been watching Parkview baseball since I was six years old. It's awesome to be able to experience a state championship."
No. 2 North Paulding (30-10), playing in its first state championship series, gave the Panthers everything they had in Game 2. When Parkview seemed to pull away, the Wolfpack answered - until Sam Smith scored with two outs when Houck reached on an error in the bottom of the sixth to break a 2-all tie.
That set up Spikes to close out North Paulding in the top of the seventh. He did just that, getting some razzle-dazzle help from Stripling and Cade Brown to end the game.
"I can't say enough about my staff for picking me up this year with all the health issues I've had," said Parkview coach Chan Brown. "Between them and the kids, we came together. They found a way."
The Panthers took a 1-0 lead in the second inning of Game 2, but North Paulding's Chris Cole scored on the throw after Mitchell Heer's double in the fifth inning to knot the game at 1.
Parkview regained the lead in its half of the fifth when Sadler reached on an error allowing Spikes to score.
But Grayson Taylor hit a mammoth solo homer that cleared the right field fence in the sixth to tie the game at 2 before the Panthers took the lead for good in the bottom of the sixth.
North Paulding made four errors in Game 2.
Landon Stripling earned the victory on the mound, allowing two earned runs on seven hits before Spikes worked the final inning for the save.
Spikes finished the second game 3-for-4, while Stripling finished with two hits. North Paulding's Tysen Benford finished 2-for-4 with a double and a triple.
The Game 1 victory wasn't as easy as the 4-0 final score looked. Mason Bown and North Paulding starter Jake Hembree locked up in a pitcher's duel until Parkview broke through in the fifth when Smith scored on Spikes' sacrifice fly.
Then the Panthers added three insurance runs in the seventh on an RBI triple from Spikes and an RBI single from Houck, who later scored on a passed ball.
Houck, Daylon Carleton and Cayden Gaskin finished with two hits each to lead the Parkview offense.
On a warm and muggy night, Spikes ended up on the bottom of the celebration pile in the middle of the infield.
"It kind of hurt to be honest," Spikes said. "But then it felt great knowing that all these long hours paid off."