Posted 5/26/2021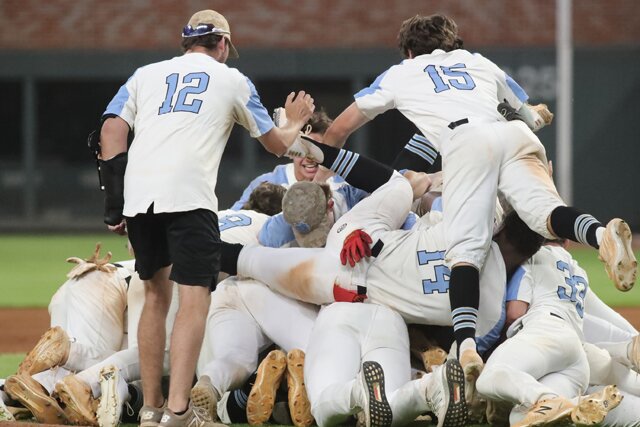 Starr's Mill players celebrate after sweeping Loganville to win the Class 5A state championship Tuesday night at Truist Park.
Oh, so sweet
Starr's Mill sweeps Loganville to win Class 5A state title
View photo slideshow here
By Tim Morse
ATLANTA -- The fans stood on their feet, waiting for just one more pitch.
And Daniel Courtney delivered, heaving one more that resulted in a swing, a miss and at last, a state championship for Starr's Mill High School.
The Panthers delivered the final knockout punch and kept history from being made with a sweep of three-time defending state champion Loganville in the best-of-three Georgia High School Association Class 5A state championship series Tuesday night at Truist Park.
Loganville (30-11) was seeking to become the first program since Richmond Academy (1951-57) to win four or more consecutive state baseball titles. The Musketeers still hold the state record for most consecutive crowns with seven.
The Panthers (31-11) took Game 2, 4-2, behind Courtney after right-hander Chay Yeager had set the tone of the series with a two-hit shutout in Game 1 to lift Starr's Mill to a 1-0 victory.
To say Starr's Mill wanted to beat Loganville was an understatement. In 2017 and '18, it was those same Red Devils that ended Starr's Mill's championship hopes with back-to-back defeats in the state semifinals. Many of the current players were freshmen and eighth-graders then, but they hadn't forgotten the sting of those losses.
"They've given us fits for years," said Courtney, who earned the complete-game victory in Game 2 by allowing two unearned runs on four hits and fanning seven.
"So, with me being a senior, to go out like this feels absolutely amazing."
Courtney's strikeout left Loganville and its fan base stunned. The Red Devils hadn't lost a postseason series since 2016 when Houston County needed three games to top the Red Devils in the Class 5A state championship series. Ironically, that was the start of the program's incredible run of three straight state titles.
After Yeager helped Starr's Mill to the Game 1 victory, the left-handed Courtney took the mound and knew what was at stake for the Panthers to win the school's first state baseball championship.
But his teammates were determined to give him a head start. Playing as the visitors, leadoff hitter Thad Ector sent a liner into center field, stole second, then took third on an error to open the door for shortstop Josh Tate to drive home the first run and a 1-0 advantage.
Ector said he knew that would help Courtney feel comfortable on the mound.
"Daniel has been our starter in Game 2 the past two series to keep us alive," said Ector who has signed with South Carolina. "We didn't want him to have any pressure. He is a bulldog on the mound. He's the boss."
Courtney did the rest, getting a 2-0 advantage in the third when Yeager scored on the throw after Eli Jones had singled.
He did run into trouble in the bottom of the fourth when singles from Chandler Haulk and William Cawthon and an error loaded the bases. Matthew Heard reached on a fielder's choice that scored Haulk and Michael Mason to tie the game.
But Starr's Mill quickly gave their leader another run in the fifth inning. Yeager singled with two outs, then stole second to move into scoring position. Pinch hitter Alex Ukleja singled to center field to score Yeager. 
The Panthers added an insurance run in the fifth inning and left the rest up to Courtney.
He didn't disappoint.
"Daniel wanted to follow up what Chay Yeager did in Game 1," Starr's Mill coach Brent Moseley said. "He didn't have his best stuff tonight, but you don't have to get him much of a lead. Anytime he gets a lead, he's a bulldog."
The Panthers finished with nine hits with Yeager finishing 2-for-4 to pace Starr's Mill's offensive attack in Game 2.
Yeager set the tone for the Panthers in Game 1, tossing a two-hit shutout. He struck out eight and kept Loganville hitters off-balanced, mixing his speeds while using his defense behind him. He outdueled Loganville ace Riley Cruce, who allowed just a run on five hits and didn't walk a batter.
After No. 9 hitter Evan Harrah reached on a fielder's choice with two outs, Ector smoked a liner to left field and scored Harrah for the game's only run.
Ector finished 2-for-3 to lead the Panthers. William Cawthon had both hits for Loganville off Yeager.
The senior class talked about wanting to win a state championship for Moseley, who had guided the Starr's Mill program to a state runner-up finish in 2009. While they did that, they inserted their names into Starr's Mill history.
"Being the first to win a baseball title, we'll always be remembered," Ector said. "This feeling is amazing right now."