Posted 5/26/2021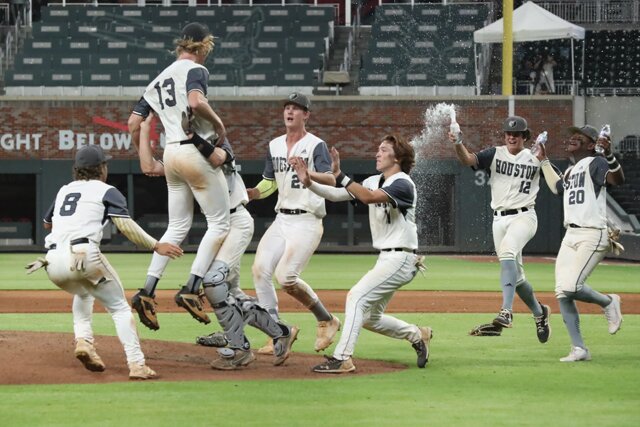 Houston County celebrates after sweeping Lassiter to win the Class 6A state championship Wednesday night at Truist Park.
Champs - again
Houston Co. wins third title in last seven seasons
View photo slideshow here
By Tim Morse
ATLANTA -- Second baseman Christian Davis scooped up the routine ground ball, then tossed to first baseman Andrew Dunford.
Catcher Garrett Hortman raced to the mound to celebrate with pitcher Coleman Willis.
Seconds later, the rest of Houston County was near the pitcher's mound, celebrating another state baseball championship.
Behind Willis, Brodie Chestnutt and some timely hitting, the Bears shut down Lassiter and swept the Trojans in the best-of-three Georgia High School Association Class 6A state championship series Wednesday night at Truist Park.
Houston County took the first game, 2-1, behind Chestnutt's complete game gem, then Willis fired a shutout as the Bears won the second game 4-0.
It's the third state title in the past seven seasons for the Bears (33-7) , who also won state titles in 2014 and '16.
"I feel very blessed," said Houston coach Matt Hopkins who won his first state championship as the head coach. "I told these guys that we needed to put our focus on what matters because we got stuck on wins and losses and not on God, which is where it needed to be. I want to teach these guys to be better men. I can't say enough about these kids."
Chestnutt allowed just a run on four hits and garnered most of the accolades, but it was some clutch hitting that broke a 1-all tie in the bottom of the sixth of Game 1, putting the Florida State signee in position to earn the pitching victory.
Andrew Dunford drew a leadoff walk, then Willis ripped a double off the right field wall to put runners at second and third with no outs. Dunford scored on third baseman Drew Burruss' sacrifice fly for a 2-1 lead.
Chestnutt then did the rest, getting the first two outs quickly in the seventh before surrendering a walk. However, the right-hander then got a fly out to Treyson Hughes to preserve the victory.
He finished with five strikeouts to outduel Lassiter ace Ben Norton, who allowed two runs on four hits and struck out four.
Lassiter's Max Beck Berednse finished 2-for-3 to lead the Trojans on offense.
Hopkins said that in between games, he talked about getting a quick lead in Game 2 to keep the pressure on Lassiter. The Bears did just that, spotting Willis a four-run lead before the Georgia signee ever took the mound.
Gage Harrelson and Hughes led off with singles before Dunford's two-run triple made it 2-0.
"He threw me a fastball," said Dunford, who finished 2-for-4 in Game 2. "I knew a fastball was coming because they had been trying to blow it by me. I had been a little slow getting my foot down, but I got the fastball and I just drove it.
"We knew we had to jump on them. We were just waiting for them to make a (pitching) mistake and when they did, we jumped on it."
The Bears, however, weren't done in the first inning.
Willis and Hortman added RBI singles to make it 4-0, then Willis trotted to the mound and knew what he had to do.
"Part of our success has been getting that run support early," who allowed seven hits and also struck out seven. "It gives you a little wiggle room knowing that you can give up some hits and still be all right."
Lassiter (32-8) was seeking its first baseball title since 2006, but the Trojans had little success against Willis. They got runners to third base twice in Game 2, but each time, Willis escaped by using his defense or getting a strikeout to escape any damage.
He appeared to get stronger as the game progressed. He worked a 1-2-3 bottom of the seventh, then celebrated with his team near the pitcher's mound.
"This is a great feeling," he said. "This is what we've been working for. I'm glad to see all our hard work paid off."
Harrelson, Hughes and Dunford, Houston County's first three hitters in the lineup, finished with two hits each.
Meanwhile, Parker Hughes and Cameron Campbell led Lassiter with two hits apiece.