Posted 5/14/2022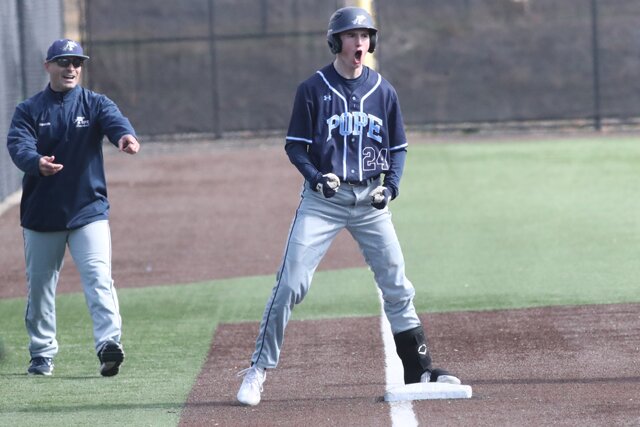 Pope swept Buford in its Class 6A state championship series on Saturday.
GHSA state semifinal notebook
Editors note: Semifinal round for Classes 3A, 2A, 1A Public and 1A Private are scheduled for Monday, May 16 and if needed, Tuesday, May 17.
Class 7A
Woodstock sweeps Parkview
Game 1: Woodstock 4, Parkview 3
Game 2: Woodstock 6, Parkview 4
Woodstock (30-7) will return to the state championship series for the first time since 2017 after sweeping past top-ranked Parkview on Saturday. The Wolverines used a four-run fifth inning to overcome a three-run deficit in Game 1 to grab the lead for good. With pitcher Brayden Davis in control, that was all Woodstock needed in a Game 1 victory. Davis allowed three runs (two earned) on six hits to earn the complete-game win. Gabe Wuerth went 3-for-3 with a triple to lead the offense. In Game 2, Woodstock overcame an early one-run deficit, took a 5-1 lead and never looked back en route to the sweep. Pitchers Kevin Maurer and Colin Bryant combined to allow just four runs on 11 hits. Kameron Douglas went 2-for-4 at the plate with a double and a RBI. Logan Bryson added a two-run homer. Three-time defending state champion Parkview, seeking to become the first team in state history to win four state titles since Richmond Academy (1951-57), ends its season at 30-7.
--------------------
Etowah sweeps Mill Creek
Game 1: Etowah 3, Mill Creek 2
Game 2: Etowah 4, Mill Creek 2
Etowah swept past Mill Creek and ensured an all-Cherokee County final for the Class 7A state championship series. The Eagles will meet Woodstock in another battle for Towne Lake. The two teams will meet at Truist Park. Woodstock and Etowah met for the Class 7A state championship series in 2017 with Etowah sweeping the Wolverines for the state title. Haiden Schultz's RBI single in the top of the 12th inning of Game 1 gave Etowah a 3-2 lead, then reliever Isaac Griffin pitched a scoreless bottom of the inning to help the Eagles to a 3-2, 12-inning victory in Game 1. Schultz's single scored Jackson Chirello to end Mill Creek pitchers' streak of 10 scoreless innings. Jordan Fricks and Schultz each finished with three hits to lead Etowah's offense in the first game, while Matt Simay had three hits for the Hawks. In Game 2 after Mill Creek took a 2-0 lead, Chirello tied the game with a two-run homer. The Eagles added two more runs in the fourth inning on an RBI single from Reece Wehr and an RBI double from Davis Newnan. With Caleb Hughes in control, that was all Etowah needed. Hughes finished with the complete-game victory allowing two runs oin five hits. Etowah improved to 31-9, while Mill Creek finished its season at 26-14.
-----------------------------------------------------------------------------------------------------------------------------------------------------------
Class 6A
Pope sweeps Buford
Game 1: Pope 8, Buford 5
Game 2: Pope 8, Buford 4
Pope (30-8) is back in the state championship series after sweeping Buford Saturday evening. The Greyhounds have become Buford's chief nemesis. Last year, Pope eliminated the nationally-ranked Wolves in the second round. In Game 1, Dawson Campbell and Carson Kerce pitched Pope to a victory, combining to allow the Wolves just five runs on eight hits. Campbell also went 3-for-3 on offense with a pair of RBIs, while Trey Kaiser went 2-for-4 with a pair of RBIs. In Game 2, Pope took a 6-0 lead early in the game and was never seriously challenged. Jack Butler was the winning pitcher and also went 2-for-3 on offense with an RBI. Kerce went 3-for-4 with three RBIs and a double. Pope is in the state championship series for the fifth time in the past six seasons. Buford ends its season at 28-10.
--------------------
Allatoona sweeps Lassiter
Game 1: Allatoona 4, Lassiter 2
Game 2: Allatoona 5, Lassiter 1
Allatoona earned a trip back to the state championship series for the first time since 2018. The Buccaneers' opponent? The Pope Greyhounds .... again. The two met for the Class 6A state championship in 2018 in an all-Cobb County final with Pope winning the title, the Greyhounds second straight. On Saturday, Allatoona won two against Region 6 rival Lassiter to sweep the series after the two teams split their season series in Region 6-6A play. In Game 1, pitchers Riley Gaskins and Landon Perkins combined to allow Lassiter just two runs on two hits in a 4-2 victory. Aidan Jolley went 4-for-4 to lead the Buccaneers on offense. In Game 2, Ethan Sutton allowed Lassiter just a run on four hits to earn the complete-game victory on the mound. Blake Wootton, Taylor Schultz and Sutton collected two hits each to pace Allatoona's 11-hit attack. The Buccaneers (35-4) are in the state championship series for the second time in school history. Lassiter's season ends at 28-12. The Trojans, the defending Class 6A state runner-up, were looking to make back-to-back trips to the state championship series.
-----------------------------------------------------------------------------------------------------------------------------------------------------------
Class 5A
Loganville sweeps Decatur
Game 1: Loganville 2, Decatur 1
Game 2: Loganville 13, Decatur 7
Loganville punched its ticket back to the state championship series for the sixth straight season with a sweep of Decatur on Saturday. The Red Devils have played in a state championship series every year since 2016 (2020 season was canceled). The Red Devils won three straight state titles from 2017-19 and finished as the state runner-up to Starr's Mill in 2021. Game 1 was close as the Red Devils' Gage Fullerton scored the game-winning run on a throwng error in the bottom of the eighth inning as Loganville took a 2-1 victory. Then in Game 2, Matthew Heard had a two-run double, a solo homer and a three-run homer and drove in six runs as the Red Devils eliminated the Bulldogs. Loganville improved to 30-8, while Decatur ends its season at 26-12.
--------------------
Cartersville sweeps Apalachee
Game 1: Cartersville 3, Apalachee 2
Game 2: Cartersville 11, Apalachee 8
Cartersville will play in a state championship series for the 10th time in school history after sweeping past Apalachee Saturday evening. It will be the Purple Hurricanes' first state championship appearance since 2018. Blake Sutton's RBI double in the bottom of the eighth inning with no outs set up the game-winning run. Miles Owen, a courtesy runner, scored on a wild pitch with two outs in the inning to help end a Game 1 pitcher's duel and lift Cartersville to a 3-2 victory. In Game 2, Cartersville opened a four-run lead in the first two innings and never trailed. Harrison Childers and Sutton collected three hits each to help pace Cartersville's 14-hit attack. Apalachee did threaten in the bottom of the seventh, scoring four to trim the deficit to three runs. However, the Wildcats left the bases loaded as Cartersville reliever Phillip Schiltz escaped the jam by recording a strikeout for the game's final out. Cartersville improved to 31-6. Apalachee's best season in school history ends at 23-15.
-----------------------------------------------------------------------------------------------------------------------------------------------------------
Class 4A
Cedartown, LaGrange split
Game 1: Cedartown 4, LaGrange 2
Game 2: LaGrange 11, Cedartown 0
It all comes down to a winner-take-all Game 3 on Monday at 5:30 p.m. in LaGrange. Cedartown split a pair of games in the state semifinals on Saturday with LaGrange. The Bulldogs are looking for their first trip to state finals in school history, while LaGrange is seeking its first trip to the state finals since the Grangers won a state title in 2004. In Game 1, pitcher MJ Holiday and X Holiday combined to allow LaGrange just two runs on five hits in a 4-2 victory. Eli Barrow finished 2-for-4 with a double and two RBIs to lead Cedartown's offensive attack. Trey Cook finished with two hits for LaGrange. In Game 2, it was all LaGrange as pitcher Trevor Booton allowed Cedartown just four hits in a five-inning mercy rule game. The Grangers, meanwhile, erupted for 11 hits as Trey Cook, Seth Stargell and Zack Thompson collected two hits each.
--------------------
North Oconee sweeps Benedictine
Game 1: North Oconee 16, Benedictine 4
Game 2: North Oconee 10, Benedictine 0
After Benedictine swept North Oconee in the state semifinals in 2021, North Oconee returned the favor on Saturday. The top-ranked Titans rolled to their 36th and 37th straight victories and showed the Cadets no mercy in a two-game sweep to make the state championship series for the first time in school history. After North Oconee routed Benedictine 16-4 in Game 1, the Titans used an RBI double from Grayson Godbee and RBI singles from Braeden Smith and Cale Stricklin to build a 3-0 in bottom of the first inning. Then Justin Byrd smashed a two-run homer to make it 5-0 in the second. Godbee added a three-run homer in the fourth and Stricklin added a walk-off homer in the fifth to run-rule the Cadets. North Oconee is 37-1, while Benedictine finishes its season at 30-8.