Posted 5/20/2022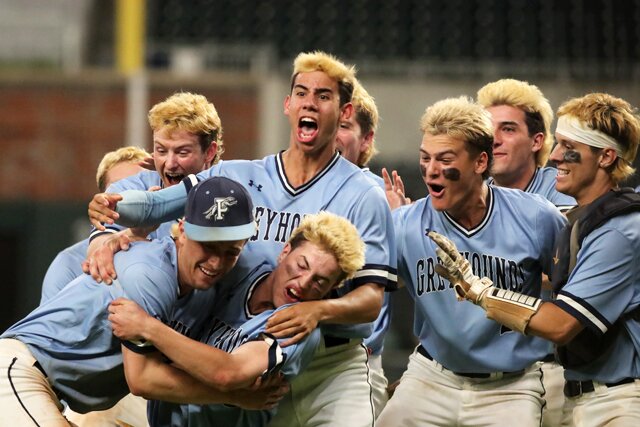 Pope players celebrate after sweeping past Allatoona to win the Class 6A state title at Truist Park Thursday night
State Champions .... again
View Slideshow Here
Carson Kerce stepped off the mound for a brief second, looked up into the stands and took a deep breath.
He then stepped back onto the mound and with a 1-2 count and two outs, he threw perhaps his best pitch of the night.
The batter missed for strike three.
Game over, and the celebration started with Kerce in the middle.
Pope swept Allatoona Thursday night in an All-Cobb County, All-Region 6 final at Truist Park to win its fifth state championship in school history and second in four seasons. It was the Greyhounds' fourth state championship appearance since 2017 (the 2020 season was canceled).
Pope run-ruled Allatoona 10-0 in six innings in Game 1, then carried that momentum into Game 2 and won 9-2, setting off a wild celebration.
It was the second time since 2018 that the two Cobb rivals met for the state championship. Pope defeated Allatoona to win the Class 6A title in 2018, the second of back-to-back crowns for the Greyhounds. The two schools split a pair of games during their regular-season region matchup.
Kerce who worked a scoreless seventh inning, said he was ready for the dogpile celebration. After striking out the game's final batter, he pumped his fist, then was mobbed by teammates.
"Yeah, I was ready ... I just didn't want to be on the bottom," he said. "I have to say this was probably the coolest thing I've every been a part of. I kept telling myself that this was pretty cool looking at all the fans cheering us on."
It was bittersweet for Pope coach Chris Turco, a longtime assistant under former coach Jeff Rowland. Turco was promoted to the head coaching job when Rowland retired after the 2021 season.
After Pope won the Region 6 title last month, the Greyhounds swept every round of the state playoffs and ended the season on an 11-game winning streak.
Turco said Rowland and his staff made it easy for him.
"Jeff left behind a blue print," Turco said. "I jokingly told someone that I just didn't want to screw it up."
Much like Rowland's teams were big on shutdown starting pitching and some timely hitting sprinkled in, the Greyhounds (33-7) got a pitching gem from Game 1 starter Dawson Campbell, then Jack Butler, Tyler Urowsky and Kerce combined to stifle the Buccaneers in Game 2. The Greyhounds led 6-0 before Allatoona (35-6) scratched home its first run of the series.
Campbell hurled a three-hit shutout in the first game. Allatoona struck for 11 hits in the nightcap, but Butler, Urowsky and Kerce kept them off-balanced and used some solid defense to escape jams and eventually sweep the series. Allatoona left 11 runners on base in Game 2.
"I can't say enough about our pitching coach Matt Liedberg," Turco said. "He's had our pitchers ready to go all year."
Campbell, Kerce, Heath Owen and Jack Myers finished the first game with two hits each, while Campbell, Kerce and Myers had two RBIs apiece.
In the second game, Cooper Orr's three-for-three performance paced the Greyhounds' 11-hit attack.
Extra-base hits were plentiful in the series. The two schools combined for 36 hits with 12 of them going for extra bases. Pope had four triples in Game 2.
"I'm just so happy for these guys," Turco said. "The kids were able to put it together. They bought in and kept it going."