Posted 5/25/2022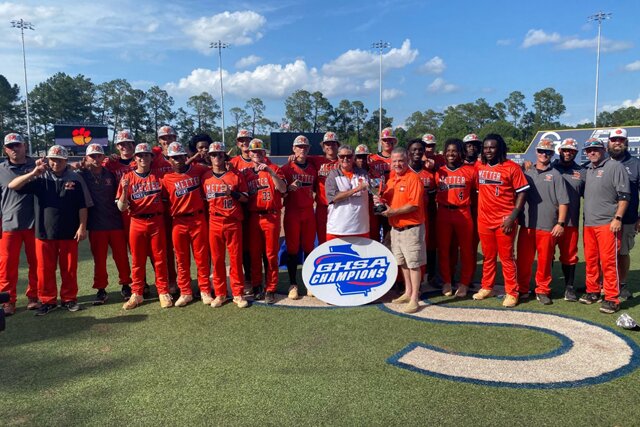 Metter players celebrate after winning the Class 1A Public state title. (Photo credit: GHSA)
Metter wins back-to-back titles
Shortstop Kyzer Anthony scooped up the ground ball, stepped on second base for the force out, then fired to first base to finish off the double play.
And the Charlton County Indians.
Anthony played a big role in helping the Metter Tigers win Game 2, 3-0, and sweep the best-of-three Georgia High School Association Class 1A Public state championship series Wednesday afternoon at Georgia Southern University's JI Clements Stadium in Statesboro.
It was the second straight Class 1A public state championship for the Tigers (31-5) who finished the 2022 season on a 21-game winning streak. Charlton County finished its season at 32-8.
Wednesday's Game 2 went quickly compared to Tuesday's night Game 1. After the two teams waited out a 2 1/2-hour rain delay, the first game of the series began closer to 9 p.m. After Metter rallied to win 8-7 in the bottom of the seventh inning, GHSA officials originally planned to start Game 2 around 11:35 p.m. before reversing course and scheduling Game 2 for 4 p.m. on Wednesday.
Anthony went 5-for-6 in the two-game series with three doubles and two RBIs on offense. It may have only been fitting that the offensive star in the series turn the defensive play of the game.
Vanderbilt commit Rustan Rigdon tossed a two-hit shutout, striking out 10 to outduel Charlton County's Ian Vickers, who allowed just three runs (two earned) on four hits.
Reco Coney scored in the top of the sixth on an error to give the Tigers a 1-0 lead. Then Metter added two insurance runs in the seventh on an RBI double from Rigdon and an RBI single from Coney.
Charlton's Colton Crews and Cole Crawford had the only two hits off Rigdon.