Posted 5/20/2022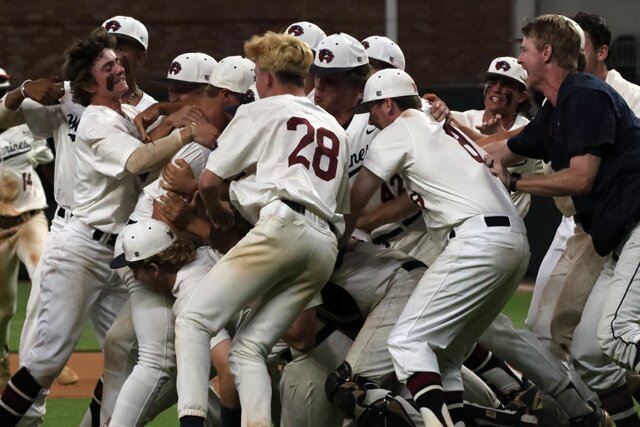 Woodstock players celebrate after winning the GHSA Class 7A state baseball title, its first baseball championship in school history
Woodstock wins first state baseball championship
View Photo Slideshow Here
Kevin Maurer watched the soft infield grouder get scooped up by shortstop Gabe Wuerth, who fired the ball across the diamond to first baseman Mark May for the game's final out.
The sophomore left-handed pitcher then tossed his glove into the air before getting mobbed by teammates.
Maurer's complete-game, four-hit gem helped Woodstock finish off a sweep of cross-town rival Etowah and win the Battle of Towne Lake Friday night in the best-of-three Georgia High School Association Class 7A state championship series at Truist Park.
The Wolverines claimed a pair of shutout victories, taking Game 1, 5-0, then following up with a 4-0 victory in the nightcap, capping a wild celebration.
"This is awesome," said Woodstock coach Jeff Brown, who guided the program to its first state baseball title in school history. "I'm just so proud these guys."
The All-Cherokee County final, the second meeting in the state championship series between the two schools since 2017, never materialized as Woodstock left-handed pitcher Brayden Davis hurled a one-hitter in Game 1, losing his no-hit bid with one out in the top of the seventh. He fanned seven, but he used solid defense while his team manufactured runs with timely hitting.
Then Maurer did his best to outperform Davis in Game 2. He came close, hurling a four-hit shutout.
Woodstock (33-7) outdid its Region 5 rival for the fourth time this season. The Wolverines defeated Etowah (31-11) two out of three during the regular season in region play. And it was only fitting that the two rivals meet again for the state championship. Etowah, in its last state championship game appearance in 2017, swept the Wolverines.
Brown accomplished something his father, legendary Brunswick High School coach and Georgia Dugout Club Hall of Famer Jimmy Brown, couldn't do -- guide a team to a state championship.
Davis may have set the tone for the Wolverines in the series. He locked horns with Etowah starter Dimitri Angelakos in a Game 1 pitcher's duel until the bottom of the fifth inning. Michael Preiser led off with a single, stole second, advanced to third on a ground out and scored when May bunted into a fielder's choice. Davis said he felt comfortable with just a run.
"That's how I've pitched all season long," he said. "I knew I wasn't going to go up there and throw the ball by people. I knew I just needed to throw strikes and trust the guys behind me."
His defense didn't let him down.
Woodstock's offense honored him in the bottom of the sixth. Preiser's bases-loaded triple highlighted a four-run inning to give him some breathing room.
Preiser finished 2-for-2 with three RBIs to lead the offense, while Gabe Wuerth finished 2-for-3. Jackson Chirello's single in the top of the seventh ended Davis' bid for a no-hitter.
Maurer got staked to a three-run lead in the top of the first inning of Game 2 on back-to-back RBI doubles from Logan Bryson and Kameron Douglas.
The lefty cruised until the bottom of the third when Etowah threatened by loading the bases with two outs. David Newman and Will Curcio singled before Chirello's hard-comebacker to the mound ricocheted off Maurer's glove and into the gap between shortstop and third to load the bases. That brought cleanup hitter Jordan Fricks to the plate who promptly ripped a deep fly ball that left fielder Jack Poor chased down to end the threat.
Fricks' deep fly likely would have been a homer in a high school park. Instead, it was a long out in cavernous Truist Park.
The Wolverines kept playing small-ball and added an insurance run in the top of the sixth.
"That's our brand of baseball," Brown said. "We know we're not going to hit the long ball, so we just keep playing our style. We love doubles in the gap, but we also love RBI singles."
Andrew Ianitello, Douglas, Bryson and Preiser led the Wolverines on offense in Game 2.
Davis couldn't say enough good things about Maurer's pitching in Game 2.
"That's my boy and I'm so porud of him," Davis said. "He's worked so hard these past two years. I can't think of anyone better that I'd like to hand the torch off too."