Posted 5/24/2022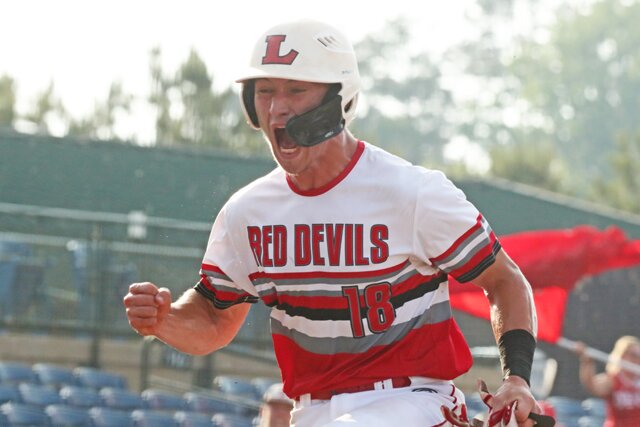 Loganville won its fourth state title in five seasons and sixth overall.
Back on top
Trenton Burnett took a step off the mound toward the Loganville High School dugout. It appeared to be business-as-usual for the senior right-handed pitcher.
Then he tossed his glove into the air, then got mobbed by his teammates.
After a year in which the Red Devils finished as the state runner-up, the Red Devils are back on top after pounding Cartersville 9-0 in Game 3 Tuesday night in the best-of-three Georgia High School Association Class 5A state championship series at AdventHealth Stadium in Rome. After splitting a pair of games on Saturday, the Red Devils left no doubt who the top team is in Class 5A in 2022.
After a dominating pitching performance from senior pitcher Matthew Heard, who allowed just a hit to Cartersville's Hank Smith in the fourth inning, Burnett finished it up in the seventh with a scoreless inning. Then the celebration was on.
Loganville (32-9) won its fifth baseball state championship in five years (the 2020 season was canceled by the coronavirus pandemic). And to make it even sweeter, they continued their dynasty in Georgia. It was the sixth overall title for the Red Devils, all since 2008.
The past seven seasons have been dominant. Loganville has four titles (2017, '18, '19 and '22), while finishing as state runner-up in 2016 and 2021.
It was the first championship under coach Bran Mills, who was promoted when longtime coach Jeff Segars stepped away last season to become the school's athletic director.
Cartersville (32-8), who made three uncharacteristic errors in the game, dug itself into a 2-0 deficit in the second inning. Then Loganville took control with a four-run third to take a commanding 6-0 advantage. With Heard in control, the Purple Hurricanes faced an uphill climb and never recovered.
Jackson Chizek's went 3-for-4 to lead the Red Devils on offense. Sherman Johnson collected two hits, including a triple.